Specials – Cochenille Design Studio
We currently do not have any specials.
Please take a look at our available video webinars
Webinar Video Series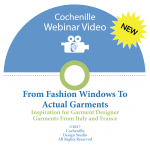 From Fashion Windows to Actual Garments webinar will take you through the process of analyzing the fashions you see in store windows, online or elsewhere and then building the pattern in Garment Designer.
Learn some great Garment Designer and patterning tips and turn your next window shopping experience or Pinterest board into actual garments. A series of different garments will be shown and used in this workshop. You will learn how to interpret the styles and how to creatively use your software to make the pattern.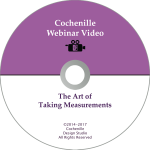 "The Art of Taking Measurements"
This webinar focuses on the art of taking measurements properly and accurately, for Garment Designer and general pattern making. It will also cover what part of the pattern ameasurement affects, and how better fit can be achieved, with the proper measurement in place.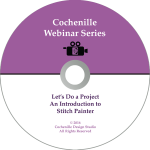 "Let's Do a Project! An Introduction to Stitch Painter."
Are you a new Stitch Painter user? Maybe you need a refresher? This webinar will demonstrate the basic workings of Stitch Painter, Cochenille's Stitch Design program. This program can also be used for Beading, Stitchery, Mosaics or any graph based design. Learn how to approach a project, use the Tools, Repeat, and other basic menus.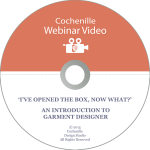 "I've opened the box, now what? An introduction to Garment Designer"
This webinar video is for people who are basically just starting, or who need a complete refresher on how to approach creating garment patterns with Garment Designer. It's time to get going, so let's walk through the steps of thought, measurement basics, and so on. Follow along with Susan Lazear as she walks you through the basic functions of designing a simple garment. We    have included some of the questions that were asked during the  recording used for this video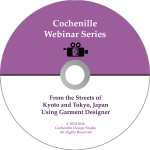 "From Kyoto to Tokyo Japan using Garment Designer"
This video includes 40 minutes of fashion trends overview and 30 minutes of demonstration of using Garment designer to build 4 garments, inspired by the fashions seen in Kyoto and Tokyo, Japan. Review current trends in Tokyo and Kyoto, Japan. See what is in the store windows and on the street. Then, using Garment Designer, learn how to build patterns for some of these garments. We will stretch your mind by choosing garments that  are creative in their design and/or require a slightly different          approach in Garment Designer.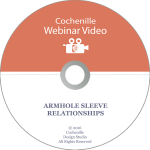 "Armhole Sleeve Relationships"
If you alter patterns, or want to draft them 'from scratch', Susan will teach you the basics of armhole and sleeve combinations. Understand how changes made to the armhole affect the sleeve and enjoy learning how to draft/create a multitude of sleeve styles. Garment Designer will be used to demonstrate examples.
| Webinar | File Download | Price | Purchase! |
| --- | --- | --- | --- |
| 20 Pattern Guidelines | .mp4 | $25 | |
| From Fashion Windows To Actual Garments | .mp4 | $25 | |
| The Art of Measurements | .mp4 | $25 | |
| Let's Do a Project. An Introduction to Stitch Painter | .mp4 | $25 | |
| "I've Opened the Box, Now What?" An Introduction to Garment Designer | .mp4 | $25 | |
| From Kyoto to Tokyo Japan using Garment Designer | .mp4 | $25 | |
| Armhole Sleeve Relationships | .mp4 | $25 | |