Specials – Cochenille Design Studio
Special offers from Cochenille Design Studio! Be creative in 2017 with Cochenille software and products. We are currently offering our Holiday Bundles, Webinar Videos & Stitch Painter Elements Collections. Read on to view information and prices
Bundle Specials
Choose from our Bundle Specials which offer both Garment Designer and Stitch Painter software, as well as plug-ins. Let Cochenille software help you finally break out that fabric and yarn you have piling up and get creative! Find the selection to suite your designing needs or perhaps someone else's. This special will run until Christmas.
See our Bundle Specials HERE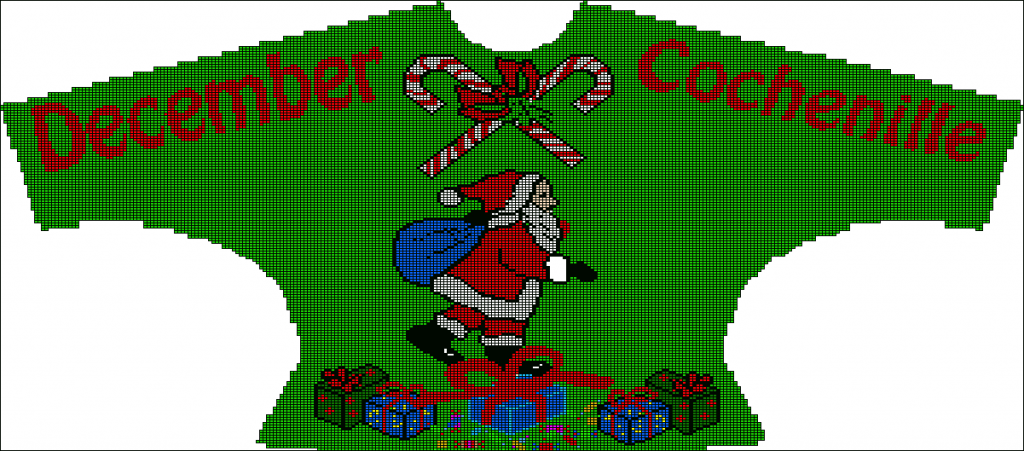 Stitch Painter Elements Collections
Cochenille Design Studio is offering four of the Stitch Painter Elements Collections to reflect the color palette used in version 3.0. The Elements are clip art collections of motifs (or brushes), based on a theme. Each collection contains hundreds Stitch Painter brushes which can be loaded using the Brush>Load menu and used as a Brush, to build designs, simply by stamping them in place. If you turn the Repeat function on, you can quickly build repeats. Currently, we have four collections: Quilt Blocks (348 motifs), Holiday (138 motifs), Floral (162 motifs) and Snowflakes/Stars (156 motifs).
We encourage you to join us for our LIVE webinars for any additional Q & A but until then we hope this helps to learn Cochenille's Garment Designer software and inspires you to get creative!
| Collection | | Contains | Operates with | Compatability | Price | Purchase! |
| --- | --- | --- | --- | --- | --- | --- |
| Florals | | 30 SP Document files 30 .png files 162 motifs | Stitch Painter 3 | Win XP to 10 Mac 10.6 to 10.13 | $24 | |
| Holiday | | 23 SP Document files 138 motifs | Stitch Painter 3 | Win XP to 10 Mac 10.6 to 10.13 | $24 | |
| Quilts | | 30 SP Document files 30 .png files 348 motifs | Stitch Painter 3 | Win XP to 10 Mac 10.6 to 10.13 | $24 | |
| Snowflakes & Stars | | 12 SP Document files 12 .png files 156 motifs | Stitch Painter 3 | Win XP to 10 Mac 10.6 to 10.13 | $24 | |
Webinar Video Series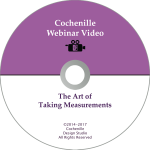 "The Art of Taking Measurements"
This webinar focuses on the art of taking measurements properly and accurately, for Garment Designer and general pattern making. It will also cover what part of the pattern a measurement affects, and how better fit can be achieved, with the proper measurement in place.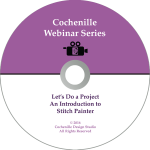 "Let's Do a Project! An Introduction to Stitch Painter."
Are you a new Stitch Painter user? Maybe you need a refresher? This webinar will demonstrate the basic workings of Stitch Painter, Cochenille's Stitch Design program. This program can also be used for Beading, Stitchery, Mosaics or any graph based design. Learn how to approach a project, use the Tools, Repeat, and other basic menus.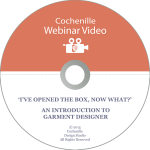 "I've opened the box, now what? An introduction to Garment Designer"
This webinar video is for people who are basically just starting, or who need a complete refresher on how to approach creating garment patterns with Garment Designer. It's time to get going, so let's walk through the steps of thought, measurement basics, and so on. Follow along with Susan Lazear as she walks you through the basic functions of designing a simple garment. We have included some of the questions that were asked during the recording used for this video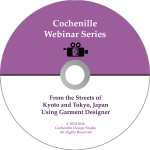 "From Kyoto to Tokyo Japan using Garment Designer"
This video includes 40 minutes of fashion trends overview and 30 minutes of demonstration of using Garment designer to build 4 garments, inspired by the fashions seen in Kyoto and Tokyo, Japan. Review current trends in Tokyo and Kyoto, Japan. See what is in the store windows and on the street. Then, using Garment Designer, learn how to build patterns for some of these garments. We will stretch your mind by choosing garments that are creative in their design and/or require a slightly different approach in Garment Designer.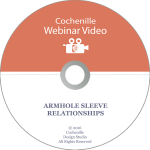 "Armhole Sleeve Relationships"
If you alter patterns, or want to draft them 'from scratch', Susan will teach you the basics of armhole and sleeve combinations. Understand how changes made to the armhole affect the sleeve and enjoy learning how to draft/create a multitude of sleeve styles. Garment Designer will be used to demonstrate examples.
| Webinar | File Download | Price | Purchase! |
| --- | --- | --- | --- |
| The Art of Measurements | .mp4 | $25 | |
| Let's Do a Project. An Introduction to Garment Designer | .mp4 | $25 | |
| "I've Opened the Box, Now What?" An Introduction to Garment Designer | .mp4 | $25 | |
| From Kyoto to Tokyo Japan using Garment Designer | .mp4 | $25 | |
| Armhole Sleeve Relationships | .mp4 | $25 | |