Stitch Painter Training Aids
Stitch Painter Training Aids are designed to assist you in learning and using your Stitch Painter software
Stitch Painter Lesson Book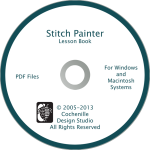 This CD contains a PDF book that is the result of online lessons on the use of Stitch Painter on Compuserve. Susan Lazear wrote these lessons with two goals in mind. The first was to teach people how to use Stitch Painter in a 'project' oriented approach. The second goal was to teach some basic design skills. (You will be able to print the PDF book or copy it to your computer for easier access.)
The book is written in a step-by-step format and includes 4 extended lessons:
• Motif Development
• Simple Repeat Design
• More Repeat Design and Color.
Knitters Worksheets PDF CD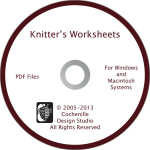 Cochenille Knitter's Worksheets are an excellent way to get organized when developing hand crafted or computer generated patterns.
There are 4 different worksheets to assist you in the creative process:
• Swatch Record Sheet
• Sweater Project Worksheet
• Sweater Spec Sheet
• Knitter's Computer Log
This CD also includes a Yarn Inventory template to print and cut. Fill in the yarn information and wrap a sample piece of yarn around the card to keep record of projects. Related Products: Key Ring (A great way to string together your yarn cards)
Stitch Painter Cheat Sheets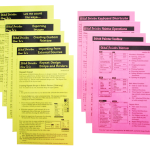 By popular request, we released two sets of Stitch Painter Cheat Sheets. Theses are laminated 5.5 x 8.5 inch cards with helpful information regarding Stitch Painter (basic operations, tips, shortcuts, how-to's… )
Set 1 Includes:
• Stitch Painter Basics
• Stitch Painter Toolbox
• Stitch Painter Menus
• Stitch Painter Keyboard Shortcuts
• Stitch Painter Palette Operations
Set 2 Includes:
• Stitch Painter How-To's
• Customizing Palettes
• Repeat Design, Strips and Borders
• Importing from External Sources
• Exporting
• Let me Count the Ways (multiple ways to do certain tasks)
Stitch Painter Symbol Cards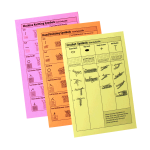 Cochenille offers a set of 3 symbol charts; one for hand knitting, machine knitting and crochet. The Japanese symbol is illustrated and the operation of how to create the stitch is shown. This is helpful for designing your own patterns as it gives you the most common world standard.
*Each card is double-sided.
Knitter's Yarn Cards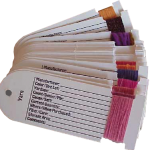 Cochenille Yarn Inventory Cards contain a place for you to record all your information, plus a wound strand sample of the yarn for easy reference. You may store these cards in a binder, or on a large ring. Once purchased, this PDF file will be sent via email. For best results, print on cardstock paper to produce as many as you need.