Software Key 


Garment Designer 2.5.5 (Windows) and 2.9.1 (Mac)


Stitch Painter 3.5 (Windows and Mac) soon to release
As of March 23rd, 2023, Cochenille has changed our system of Security for our software.
We are now employing a Software Key (as opposed to the Hasp hardware key). Existing software owners can still use their software and key.
When you purchase your software, we will enter you into our system, and then issue you a digital download link as well as a License ID and Password. You will also be given a serial number for your software. The process is simple..
Activating the Software License
You will need to be online for activation to occur, so ensure you have an Internet connection.
Once you have worked through the security settings of your computer and installer the software, double-click on the program to open it. You should now see a dialog which is prompting you to activate your License. Click OK. An Activate Online dialog will open.
Activate your license by entering the provided License ID and password into the dialog.
Click on Activate. At this point, a connection will be made with the license server and you activation will occur. You should see a 'success' message. Click OK to close the window. Your software will now open.
Information about your Activation License
Your software license allows for two activations so that you can run the software on two separate computers (should you own them, e.g. a portable and desktop computer) without the need of activating and deactivating each time you want to change computers. This is provided as a convenience to you so please protect your activations.
Some License Lingo
License ID – a number assigned to your license
Password – a password assigned to your license
Activation – the process of letting our server know that you are activating your software. Without activation Garment Designer will not open.
Deactivation – The process of letting our server know that you are removing the license from a computer. This frees the activation up to be put on another computer.
Validation – The periodic check that your license is still valid which occurs using the Internet.
What happens during activation?
You may install the software on multiple computers, however it will only run on two computers, as you are allowed two activations.
When you activate your license, information is sent to the license server noting the activation. An activated license allows the software to run.
You can choose to deactivate the license for various reasons, most commonly, to change computers.
When would you want to deactivate?
When you are changing computers
When you know you must replace or initialize the internal drive.
When you are taking a computer in for repair and there is some risk to the data.
For software versions 2.5 – 2.5.3 (Windows) and 2.5 – 2.9 (Mac)
About HASP Keys
The USB HASP key must be plugged into the computer during software use, this protects our software from being shared illegally. If you do not have the HASP key, then you will be unable to access the software. The HASP Key, sometimes referred to as a dongle, allows your computer to recognize and open our software programs, please have it plugged in prior to opening the program. If you have a limited amount of USB ports, some users use a multi-port adaptor in order to plug in additional USB devices.
You do not need to eject the device via your computer, but you can instead pull it out of your computer without any harm coming to the licensing on the dongle.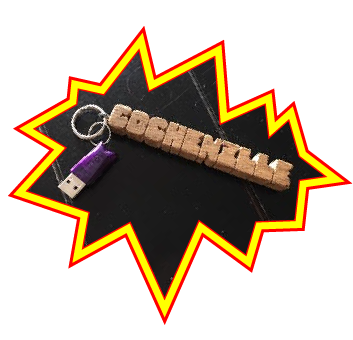 If you plan on using the key on multiple computers or traveling, you will want to attach a small keychain to make it easier to locate and differentiate it from other USB thumb drives you may own.
To access your HASP Key information, such as your key ID, you can do so by going to the following link: http://localhost:1947/_int_/devices.html
This link will take you to the admin page with information about your key once the driver is successfully installed. If the link displays an error page, then the installation failed.
Download and Install the proper HASP driver:
Mac Users can download and use the most current Hasp drivers. Windows users should use version 8.15 of the driver, as the. most current version(s) has removed items that we need.
You can always see which version of the driver you have installed by using the following link. Ensure that your key is in, and if a driver is installed you will see the version under 'version'.
http://localhost:1947/_int_/devices.html
If you plan to update your operating system, or have already updated your Operating System and are now receiving an 'Error 33' or 'H0009' message when accessing Garment Designer, this is a driver communication error. This means the driver for your HASP key has either not been installed, did not install correctly or needs to be updated for compatibility.
Please use the appropriate link and follow the instructions below to update your HASP driver:
Pre-installation checklist:
Ensure the key is unplugged during the installation
Make sure there are no security settings that will interfere with or block the installation.
Ensure that you know what location your downloaded files get saved to.
Do read further down in the instructions below to walk through installation if you need help.
Windows Installation:
August, 2021.
We have found that the latest driver for the Hasp key now introduces a new error message (E0009) as the Hasp folk have removed an element we need. So, please use this link to download a version of the driver that Garment Designer is happy with. This is version 8.15. You may download it from the link below.  (You can paste the link below into a browser if it doesn't run from here).
http://www.cochenille.com/Sentinel_LDK_Run-time_setup8.15.zip
E0009 Error on Windows
If by chance, you already installed a newer than 8.15 version of the Hasp driver, you are most likely getting the E0009 error. Here is what you need to do.
Use the exact same installer that you used to install the newer driver and run it. You want to reach the window that allows the REMOVE the existing driver.  Complete this process. (note: if you deleted this installer, you may need to go to the Thales site and download the latest driver again, and run it to do a complete uninstall).
Now, download and install version 8.15 of the driver (see above). You can confirm that this version is installed by putting the key in, and using the http://localhost:1947/_int_/devices.html function to open a window that shows you what version of driver is installed.
Now your software should open.
Macintosh Installation:  
Click on the link to download the latest HASP Key Driver installer.
Mac:
https://supportportal.thalesgroup.com/csm?sys_kb_id=11ae86eddb16e78cfe0aff3dbf961916&id=kb_article_view&sysparm_rank=3&sysparm_tsqueryId=2066b7921becd410f12064606e4bcb5e&sysparm_article=KB0018323
If you get an error message that says you are forbidden from accessing the file from the links above:
Go to Gemalto's product downloads:
and select 'Sentinel HASP LDK Mac OS X Run-time GUI Installation' or 'Sentinel HASP LDK – Windows GUI Run-time Installer' to download the installer file for the HASP driver.
2. Once you open the link on your web browser, scroll to the bottom of the website page and click 'I accept'.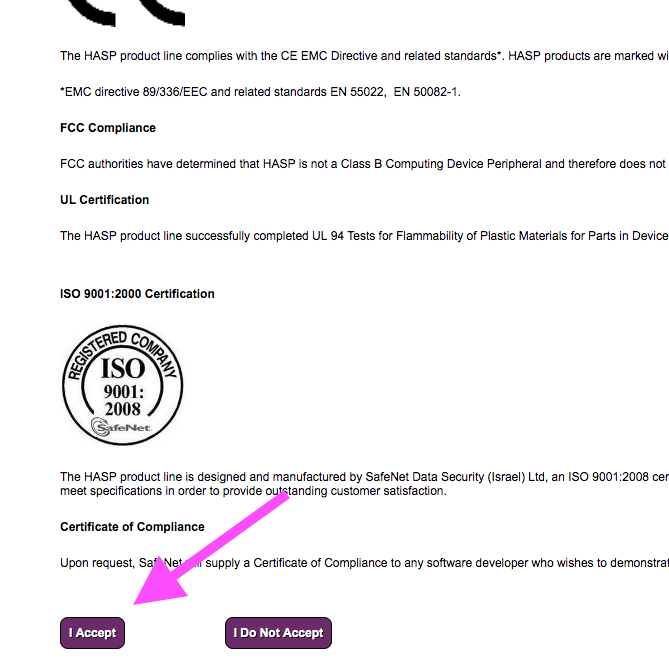 3. Once you select 'I accept' you will be taken to the downloads page. Please note that you must have browser pop-ups disabled for the download to begin.
Click on the link provided to download the installer file.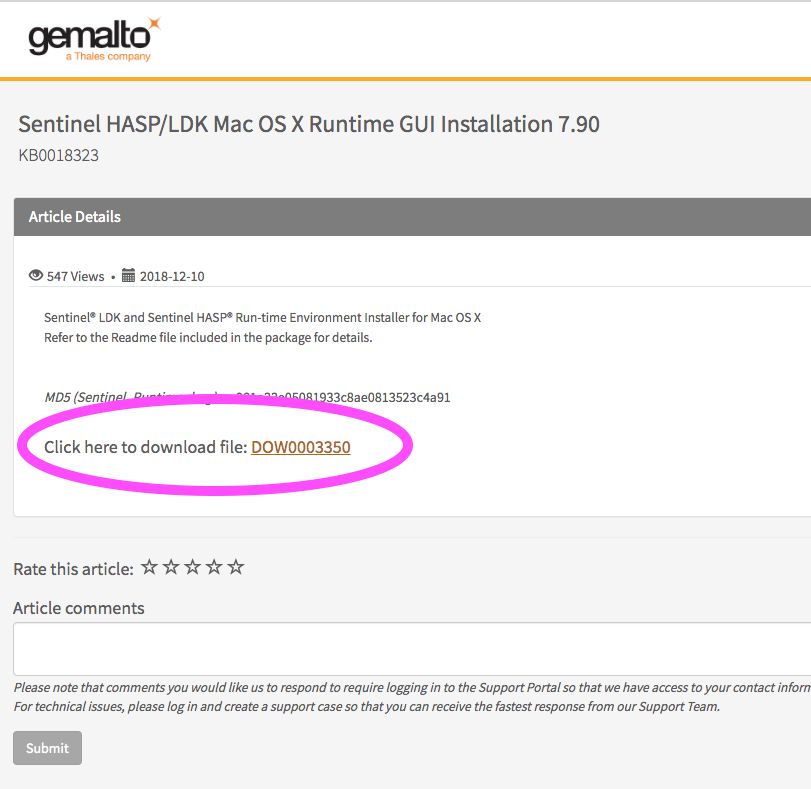 You will be asked to accept another user agreement. Scroll to the bottom and select 'I accept'.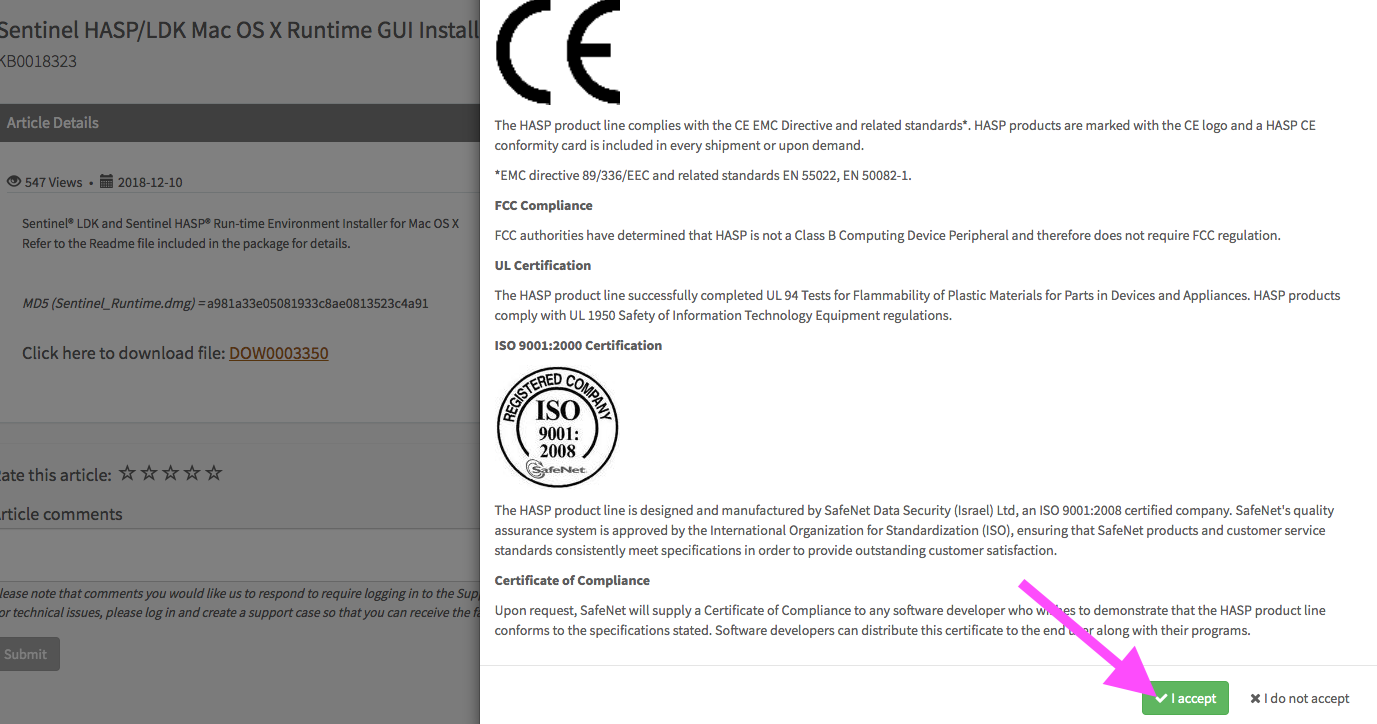 4. Once you have downloaded the zipped file, it will be sent to your downloads folder, or the folder you have directed the download to get sent to. The unzipped or expanded file name will be Sentinel_Runtime.dmg for Mac and HASPUserSetup.exe for Windows.
5. For Mac: Click on the file to open and then select 'Install Sentinel Runtime Environment'. The installation will then begin.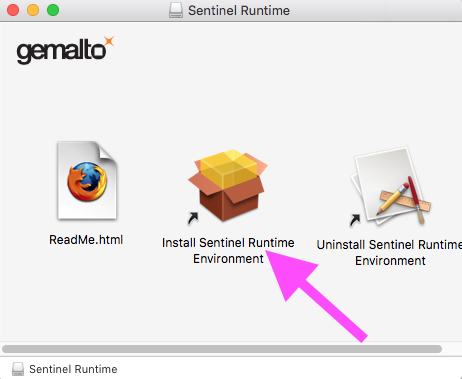 For Windows: 
Go to your downloads folder (or the folder your downloads gets saved to)
Extract the files and view the folder when it is done extracting the files.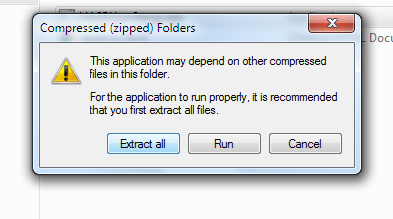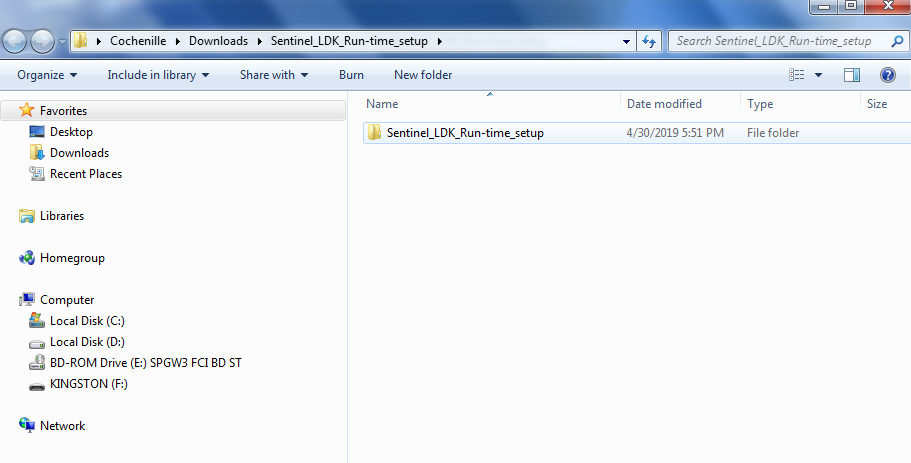 Once you have extracted the files, open the folder and run the HaspUserSetup.exe file.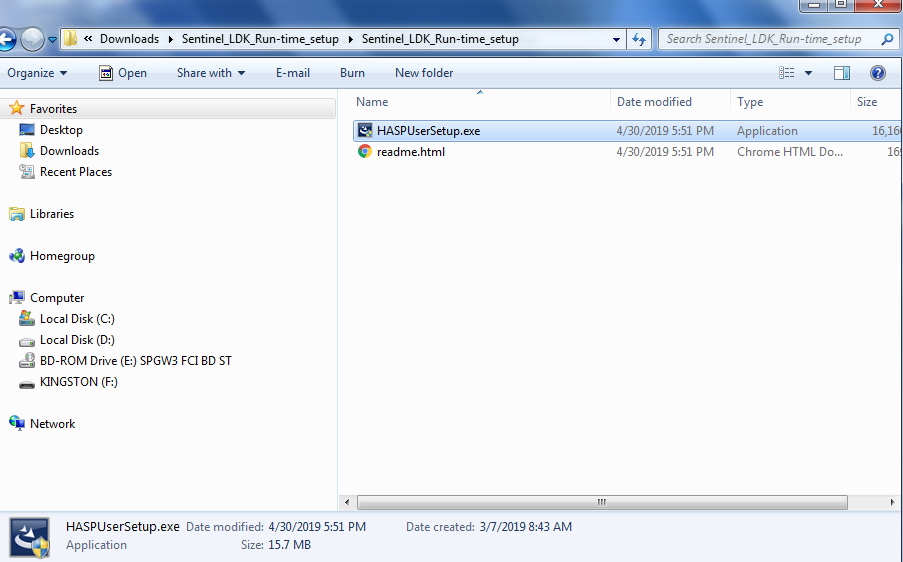 You may see a Windows Security Window that asks 'Do you want to allow the following program to make changes to this computer?' Select 'Yes'.
The installation will then begin. Please note that on Windows computer the status bar of the installation may lag or freeze, hang in there and wait for the installer to complete. The Status bar usually begins to move when the installer is near it's completion.
6. After the installation is complete, restart your computer.
7. Plug your HASP key in, wait for the light to turn on and then open your software program. We suggest waiting a few minutes after restart before plugging in the key, as some computers will not recognizes the changes right away.
*If you are having trouble with the installation of the driver please contact us at techsupport@cochenille.com. Your computer may have security settings that require a command line installation. You can find the Command line driver installer at the link below:
https://sentinelcustomer.gemalto.com/sentineldownloads/
Please view the following video to see how to update your Hasp key driver. Some of you might have difficulty doing this which may be dependent upon your computer security settings.