History – Cochenille Design Studio
The Story of Cochenille…
By Susan Lazear
In 1986, I purchased a personal computer with the hope of designing clothing for fun and pleasure. At the time, I was Chairman of the Apparel Design Department at Bassist College in Portand, Oregon.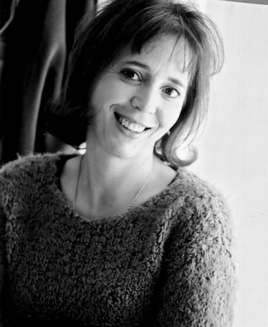 The search for the computer was an interesting one. IBM compatibles were CGA DOS, Mac's were black and white and then there was the Amiga, which offered 4,096 colors. The latter was chosen. No software could be found at this time for clothing or textile design for the home hobbyist, so paint and cad programs became my tools. The learning curve was steep, but I was determined to figure things out. Little did I know that this personal desire would open the door to a business that would be known world-wide.
My self-training helped land a job with a computer graphics service bureau firm in San Francisco that catered to the apparel industry. This, in addition to my freelance knit design work at Esprit and Levi Strauss, (both clothing manufacturers in San Francisco) led me to find assistance in creating a link between my knitting machine and my computer. This link, called the 'Bit Knitter', combined with the manual I had written on how to design garments and knits on computer were the first products of Cochenille Design Studio/ Cochenille Computer Knit Products, Inc.,founded in March of 1988 and incorporated in 1989.
Over the years, development moved to software and several programs were introduced to the market. In 1989, the first Jacquard Color Separator software was released and in 1990, a program called the "Knit Editor' was released. The IBM DOS versions of Jacquard released in August of 1992 and the Stitch Editor (Knit Editor renamed) released in Spring 1993.
Macintosh development began with Stitch Painter, a full running grid-based paint program, which was released in 1991. Over the next 2 years further versions including a Windows version were released.
In 1992, we at Cochenille made a conscious decision to develop our software for a broader crafts market including stitchery, needlepoint, and other gridded forms of craft. Stitch Painter and Stitch Editor were the two program which served this broad need, so enhancements in the form of Plug-in Modules to Stitch Painter began. We now have 3 different 'plug-in' modules for Stitch Painter which a 'Stitchery' module (released in 1995), a Beading module (released in 1997), and the Full Color Import module released in early 1998
Garment Styler, a garment-shaping program released in late 1995/early 1996 for the Macintosh and Windows platforms. This program allows you to design a garment visually on screen. The shapes cater to wearable art and the program may be used for both sewing or sweater design. Development for Garment Designer began in late 1998 and released in early 2001. The long intricate development was worth the wait, as the program offers users major features found in no other pattern design program on the market. Click and Drag pattern editing, darts, built-in pattern intelligence and other features allow even novice patternmakers to create garments with relative ease. Read all about Designer on this site, and feel free to email us with questions.
In addition to software, Cochenille also develops clip art disks, technical manuals and design aids. Our product line now incorporates over 75 products (5 software titles, technical manuals, clip art disks and various design aids).
Cochenille products are sold around the world. They are used by a broad group of people ranging from the home hobbyist, to the professional designer, to large corporations. The company currently develops on two platforms; Windows, and Mac
Our mission is to develop software for Textile Artists and Crafts people which is sophisticated, yet easy to use. The company's goal is to blend computers and textiles/crafts in a creative and simple to use manner. Cochenille believes in providing good service and follow-up technical support.
Currently, I oversee all development at Cochenille. I also teach part-time as a Professor of Fashion at Mesa College, in San Diego, California.
At Cochenille, you will generally deal with myself. We have an assortment of people who assist us at trade shows including Sarah, Carol, plus others. Kurt Bigler is our primary programmer, and he is a wizard. He can make software do things most others can't.
Best Regards,
Susan Lazear