Cochenille design aids to assist you in your creative endeavors.
Knitter's Yarn Cards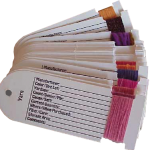 Cochenille Yarn Inventory Cards contain a place for you to record all your information, plus a wound strand sample of the yarn for easy reference. You may store these cards in a binder, or on a large ring. Once purchased, this PDF file will be sent via email. For best results, print on cardstock paper to produce as many as you need.

Louise Doll (Black of Tan)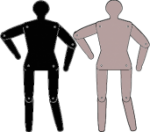 Cochenille's Louise is a 1/4-scale flat, jointed doll that is an exact 1/4 scale of Garment Designer's Size 10 Woman. Use her to prototype your garments in small scale, test concepts, create display examples, or simply to have fun. (Comes in Black o Tan)
Sewer's Worksheets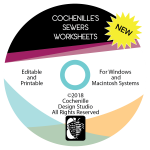 We all know how much easier it is to sew a project when you know where everything is! Keep track of your computer files, inventory and project costs.
View Sewer's Worksheets video:

Use 5 different worksheets
Pattern Planning Worksheet
Garment Construction Worksheet
2 different Project Costing Worksheets
Sewer's Computer Log
Fabric & Trim Inventory Sheets
Knitters Worksheets PDF CD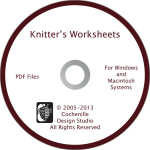 Cochenille Knitter's Worksheets are an excellent way to get organized when developing hand crafted or computer generated patterns.
There are 4 different worksheets to assist you in the creative process:
• Swatch Record Sheet
• Sweater Project Worksheet
• Sweater Spec Sheet
• Knitter's Computer Log

Computer Log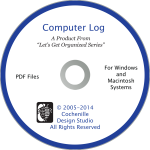 This CD PDF set is a 'must' if you tend to forget where you put things, or if you simply want to get more organized in your 'computer life'. You can print or copy the PDF file to your computer for easier access. It has various log sheets and contains:
• Computer Peripheral Log
• Software and Installation Log
• Service and Maintenance Log
• Computer File Log
• Favorite Places On
• line Log
• Contacts Log

Top Templates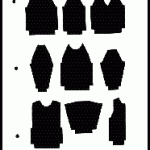 Our plastic templates of garments can aid you in drawing and planning garments. our own garment tops template on a The heavy plastic sheet of 8-1/2″ X 11″. consists of 'innies' and 'outies'. The 'innies' are the little plastic garments that you can string together. The 'outies' thus becomes the outer shapes on a three-ring plastic sheet which fits conveniently in a binder.

Needle Nudgers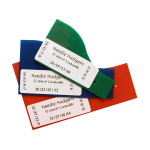 These are hard plastic, shaped tools for machine knitters. Each side is a specific width, designed to pull a set number of needles out, on your knitting machine.
This CD also includes a Yarn Inventory template to print and cut. Fill in the yarn information and wrap a sample piece of yarn around the card to keep record of projects. Related Products: Key Ring (A great way to string together your yarn cards)

Stitch Painter Symbol Cards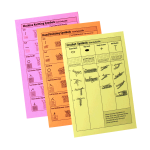 Cochenille offers a set of 3 symbol charts; one for hand knitting, machine knitting and crochet. The Japanese symbol is illustrated and the operation of how to create the stitch is shown. This is helpful for designing your own patterns as it gives you the most common world standard.
*Each card is double-sided.

Sweater Bodies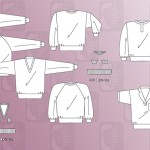 Cochenille has taken our first collection of Sweater Bodies and given them a makeover! Choose from 6 basic Sweaters, 6 Crew Sweaters or 9 Fashion Sweaters for a total of 21 sweaters!
If designing on the computer and you have our Stitch Painter program, you can incorporate those designs with this collection of sweaters to help visualize your final product. Open JPEG images with most any paint program to design on your computer. Print JPEG files to draw designs directly onto the image or place tracing paper over the image as a template for drawing one-of-a-kind garments. Illustrator files can be open with Abode Illustrator to make changes to your Sweater Bodies or Body Shapes.
Add or remove design elements or use these .ai files as a jumping off point to make a completely new image to fit you or someone you know. There are so many creative avenues to explore and Cochenille gives you the head start advantage with our new quality vector files and JPEG images.

Body Shapes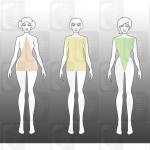 Cochenille's Body Shapes are a collection of 5 different body silhouettes to fit the body shape you are designing for. Choose from Hourglass, Triangle shape, Brick shape, V shape or Oval Shape. We break them down into variations of each shape with Average, Heavy, Petite Average and Petite Heavy to suit a variety of body shapes and sizes. Each shape also has one image with and extended arm to assist you in showing design elements that may call for this. That is a total of 15 JPEG images and 15 Illustrator files!
These body shapes are an excellent way to sketch up ideas. When using the .ai files within Illustrator, elements within the layers can also be cut and copied so you can switch hair dos from one body shape to another. Designing your new looks are more versatile and exciting with Cochenille' Illustrator Clip Art.