Cochenille Books
The following are a list of books created by Susan Lazear
Adobe Photoshop for Fashion
by Susan Lazear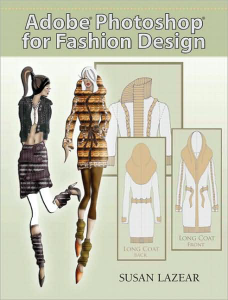 A guide and reference book on how to use Adobe Photoshop for fashion design! (version CS 4).
If you want to learn how to use Adobe Photoshop to develop or advance your fashion drawing skills, communicate your ideas to employers, or simply have fun drawing clothing and textile designs. You will love this book and its approach to teaching in simple-to-follow steps.
• Provides you with an easy and visual approach to the mechanics of using Adobe Photoshop in a manner that is simple to learn.
• Walks you through a tour of Photoshop's tools and functions that pertain to fashion design.
• Guides you step-by-step through a series of exercises and provides illustrations of works-in-progress as well as finished examples.
• Teaches you the basics of creating fashion flats, illustrations, textile designs, and merchandise presentations.
• Includes a variety of tips and suggestions for using Photoshop in fashion design.
Adobe Illustrator for Fashion, 2nd Ed.
by Susan Lazear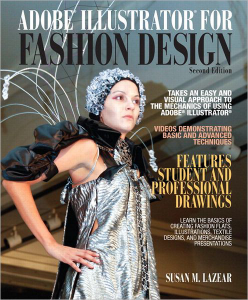 This book introduces readers to the Illustrator approach to design and ways to think about designing fashion apparel and textiles using the program. More than just a how to manual. Early chapters provide a strong foundation in the commands and capabilities of the program while later sections offer application exercises that develop skills in fashion drawing, textile design and presentation techniques.
Available with an accompanying DVD, this book emphasizes the creative process and explores the capabilities of this powerful program as related to drawings of clothing, fashion poses, and textile prints.
This book is available for purchase upon request. Email us at info@cochenille.com