Stitch Painter Gold 3 and 3.5
Stitch Painter Gold 3/3.5 is Cochenille Design Studio's grid-based design software. It is used for knitting, beading, stitching and crocheting for Windows and Macintosh computers.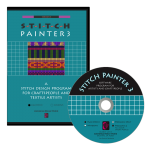 Security
Windows Stitch Painter Gold 3 and Stitch Painter 3.5 Mac can use a USB Hasp key (dongle).
We have recently released Stitch Painter 3.5.1 for Mac which uses a software key. We are in process with the Windows software key version.
Please read more on our web store.


Current Version
Stitch Painter Gold 3.0 Win
Stitch Painter Gold 3.5.1
Compatibility: 
• Windows XP to 11
• Macintosh 10.6 to 13