Client Stitch Painter Gallery
Client Stitch Painter Gallery displays creations made by clients of Cochenille. For those new to the software, our gallery images will give you an idea of the designs that can be created using Cochenille' Stitch Painter software.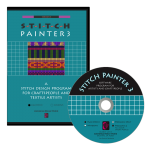 View the slideshow below to get an idea of what can be created using Cochenille's Stitch Painter software. This grid-based design software can be applied to both hand and machine knitting, crochet, beading and stitchery.
Please CLICK HERE to view additional Plug-ins to assist with importing jpeg images, beading and stitchery.
For other examples please view additional galleries created by Cochenille and professional of Cochenille.
Older Stitch Painter User Images
The following images are photos from the 90's of clothing created by customers using Stitch Painter software.
(Click on the slide to view image)
* To submit your images of designs you have created using Stitch Painter to be apart of the Customer Stitch Painter Gallery please contact us by emailing info@cochenille.com