Proportioned 4 You
The NEW PDF Pattern book by Susan Lazear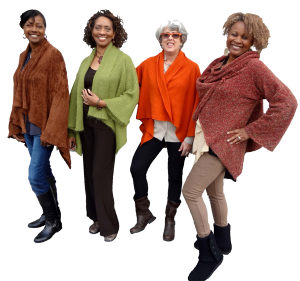 You are unique! There are no two people exactly alike, and this uniqueness extends beyond your personal shape to your sense of style and the clothing you wear.
Generally, a pattern cannot serve everyone, but wouldn't it be nice to know that you can eliminate some of the variation by adjusting the pattern's proportion to your own body?
Cochenille is ecstatic to present the NEW pattern book Proportioned4You. This PDF book is an approach to pattern and garment design that allows you to combine your personal proportions with simple-shaped patterns. Take 16 simple measurements and then plug selected ones into the pattern templates provided for each pattern throughout this book. Use your calculator to multiply your measurement by the formula provided, and like magic, you will have the shape of the various pattern pieces in proportion to your body. Want it to be even easier? If you have Microsoft Office, you can use the provided Excel file to do all the math for you. Enter your measurements in the Excel file, and sit back and smile. All the calculations will be taken care of automatically. No more math.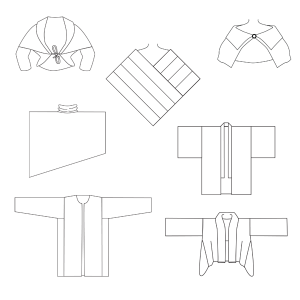 Proportioned 4 You includes the following
A PDF book in Inches and Metrics
An Excel file to help calculate your measurements
Easy to follow instructions on body measurements with images demonstrating each measurement.
Flats and Fashion Images of each pattern design, from start to finish
Sewing and Knitting Basics
Fabric and Yarn suggestions
Creative Options on design variation
Tips on working with different Figure Types
We invite you to celebrate your uniqueness with the latest Cochenille Books on disc.
Susan Lazear's NEW book Proportioned 4 You!
Cochenille Customer unique creations using Proportioned4You!
Please email us images of your finished patterns so we can add you pictures to our slide show! Send them to info@cochenille.com
Garment Designer Lesson Book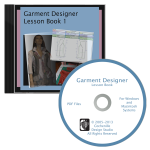 The Garment Designer PDF Lesson Book is written to show people how to use Garment Designer creatively, plus it explains simple design principles and offers design tips. It consists of 3 projects:
• Creating Simple Vests (4 lessons)
• Designing a Garment in Piecework Style (3 lessons)
• Copying Ready-to-Wear (2 lessons)
Stitch Painter Lesson Book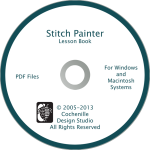 This CD contains a PDF book that is the result of online lessons on the use of Stitch Painter on Compuserve. Susan Lazear wrote these lessons with two goals in mind. The first was to teach people how to use Stitch Painter in a 'project' oriented approach. The second goal was to teach some basic design skills. (You will be able to print the PDF book or copy it to your computer for easier access.)
The book is written in a step-by-step format and includes 4 extended lessons:
• Motif Development
• Simple Repeat Design
• More Repeat Design and Color.
Easy Seven Jackets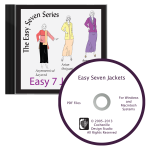 This 100 page book is designed to show Garment Designer users how to get more out of their software. Each jacket is easily designed in the software and can be knit or sewn. With each project (whether you actually sew or knit it in the end) will teach you a new skill to use with your pattern software or with the building of garments. Knitting tips and illustrated sewing instructions are included in the book as well as generic techniques and tips.
Easy Seven Jackets Images & Descriptions
(Click on the slide to view image)
Fun and Fashionable Collars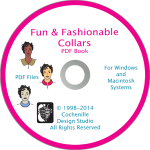 This PDF booklet by Susan Lazear covers the basics of Collar Design. Susan explains the logic of collar design, shape and fit. She shows you how to draft the basic collars (flat, standing and roll) and various style variations of these. Learn collar terminology and style names as well as how to draft the numerous standard styles. Discussion in terms of flat pattern design and design with Garment Styler/Designer is given. Now available electronically, as a PDF file for you to Print or copy the file to your computer for easier access.