Professional Stitch Painter Gallery
Professional Stitch Painter Gallery displays creations made by professional clients of Cochenille. For those new to the software, our gallery images will give you an idea of the designs that can be created using Cochenille' Stitch Painter software.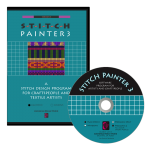 View the slideshow below to get an idea of what can be created using Cochenille's Stitch Painter software. This grid-based design software can be applied to both hand and machine knitting, crochet, beading and stitchery.
Please CLICK HERE to view additional Plug-ins to assist with importing jpeg images, beading and stitchery.
For other examples please view additional galleries created by Cochenille and other clients of Cochenille.
Judith Tollefson, Knit Stocking Designer – Farmington, Maine
Judy lives and works outside of Farmington, Maine. A jack of all trades, (or shall we say Renaissance woman?) she has worked as a calligrapher, graphic designer, kitchen designer, garden designer, seamstress, secretary, knitting and needlepoint retail salesperson, and indoor plant store manager. She has taught calligraphy, knitting and needlepoint. And has started far too many businesses!
Visit her at
(Click on the slide to view image)
Gillian Lamb, Beadwear Designer – Surrey, England
Gillian began her design career as a hand and machine knit designer. She started using the computer to assist with knitwear design and became UK distributor for Cochenille Design Studio. Gillian was introduced to beading during the testing of the beading module for Stitch Painter. Beading has dominated her world in the past few years. She is editor of the Beadworkers Guild Journal, serves on the Guild committee and teaches beading classes each week.
(Click on the slide to view image)
Jo Sharp, Knitwear Designer – Albany, West Australia, Australia
Jo began her career in textiles in 1986 and works exclusively with her own unique collection of yarns. Her passion for colour is the primary influence in her work. She strives to create wearable designs that are colourful and stylish without being too complicated to knit.
Visit her at www.josharp.com.au
(Click on the slide to view image)
Jean Moss, Knitwear Designer – York, England
Jean is one of Britain's leading knitwear designers. Her innovative combinations of intricate textures, striking colourways and sophisticated styling have been widely influential over the years. A self-taught knitter, she has been producing her own unique collections of handknits for twenty years, as well as designing for Rowan Yarns and many international fashion houses such as Ralph Lauren, Laura Ashley and Benetton. She lectures in the UK and Europe and is a regular visitor to the US, where she teaches sweater design courses extensively. Visit her at www.jeanmoss.com
(Click on the slide to view image)
Brenda Zuk, Needle Beetle – Milton, Ontario, Canada
Brenda loves to design projects and is very diverse in her abilities. She hand knits as well as machine knits. She creates original hand knitting patterns in lace, texture and intarsia, specializing in nature & animals. Brenda designs all parts of her patterns using her Macintosh computer. She also designs and builds web sites. Visit her website at
(Click on the slide to view image)
Freddie Schuh, Crochet Designer – South Carolina
Freddie has become a crochet and software guru. She makes Stitch Painter and Garment Designer sing when it comes to using them as design tools for crochet.
Find more of Freddie's design on Ravelry at www.ravelry.com/designers/freddie-schuh
(Click on the slide to view image)
Morgan Hicks
Morgan is a lifelong fiber artist with a BA in Anthropology and MS in Engineering (Technical Writing). He is a favorite instructor affiliated with the Fashion Design department of the Art Institutes International in Seattle where he has presented courses in fashion marketing, portfolio development, computer-aided fashion design, and business writing. He works tirelessly on behalf of textile design consumers to provide technical solutions to their needlework problems. He is an inspiring graphic artist and fabric designer, having produced thousands of motifs for machine and hand knitting, a developer of techniques for crochet, machine and hand knitting, as well as pursuing ongoing interests in historical and new technology and fashion. He is the owner of www.sweatersbydesign.com where his publications and patterns are showcased.
(Click on the slide to view image)
Sharon Nani, The Knit Tress – Redding, California
Sharon is a professional machine knitter and author of various patterns and instructional brochures. She is a Passap consultant and she teaches classes and workshops around the country. She also consults with small businesses to assist them in getting a machine knit business off the ground and running smoothly.
(Click on the slide to view image)
Vicki Star, Beady Eyed Woman, Encinitas, California
Vicki is co-owner of Beady Eyed Women with Jeanette Cook. Together they author books, patterns and teach workshops. Vicki says "I've been playing with beads for as long as I can remember. My earliest memories include playing in my grandmother's button tin". She grew up learning one craft after another at at one point worked with fused glass. Vicki has been immersed in the bead world for 13 years now – teaching, selling beads and jewelry, and sharing the knowledge she's picked up through the years.
(Click on the slide to view image)