Stitch Painter Plug-Ins
Stitch Painter Plug-Ins are additional modules to Cochenille's Stitch Painter software giving additional functions for purpose of importing images, beading and stitchery.
Compatibility:
• Windows XP to 10
• Macintosh 10.6 to 10.14.6 (not compatible with OSx Catalina 10.15)
Plug-Ins to Stitch Painter (Gold version only)
What is the Stitch Painter philosophy?
Stitch Painter is developed in a modular way to suit multiple textile arts. Any feature that we add to the program that suits more than one craft, will be brought into the general program. Any feature that is craft specific will be brought into an add-on module that users may opt to own. Why have we chosen this approach?
• To allow the program to meet specific crafters needs.
• To keep the menu structure simple.
• To keep costs down.
*Please enter your Stitch Painter version, and serial number into the 'Notes' section when purchasing a Plug-In Module on our website.
Full Color Import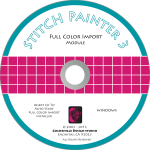 This plug-in module allows you to take full colored digital images and import them into Stitch Painter. Choose the number of colors you are willing to work with in your project, and the number of stitches and rows, and let Stitch Painter's Plug-In do the rest. It is truly amazing. There are 10 to 12 color reduction modes, which will accommodate all types of color images (photos, clip art, etc). for Gold version only
Beading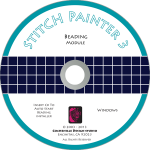 SP Beading is a plug-in module that adds the following features to Cochenille's Stitch Painter software:
• Design with Peyote and Comanche grids which may be adjusted to any proportion.
• Print out Color Counts per row, e.g. Row 1: 7 black, 3 green, 2 black, etc.
• Create custom color sets (name colors used in a document and save custom palettes).
• Follow your beading placement 'on screen' as you work.
Note: Loom Bead design may also be done with the Stitch Painter program operating in its regular mode, although additional features in the Beading module facilitate the beading process.
Stitchery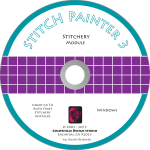 SP Stitchery for is a plug-in module to Cochenille's Stitch Painter software. This module allows users to shift the grid in order to view diagonal stitches (for needlepoint and plastic canvas) and to access DMC color references. Other features include:
♦ Change the position of your grid so that symbols lie over the intersection of grid lines, which better simulates needlework. The choice of symbol is up to you.
♦ Determine the closest DMC match to the color you used to design with.
♦ Move 250 DMC colors into the Palette panel so that you are designing with the DMC palette.
♦ Count the number of stitches of each color used.
♦ Name or rename colors.
♦ Utilize Custom Color Sets. The colors in the default Color Set are already named. You may retain these names or change them.
♦ Create custom Color Sets.
Stitch Painter Plug-in prices