Garment Designer Training Aids
Garment Designer Training Aids will help you reach your full pattern making potential. Learn the software through easy lesson books. Create mock-ups of garments with Cochenille's Louise doll. Get organized with our Knitter's and Sewer's worksheets. Keep a catalog of inventory with our Knitter's Yarn Cards.
Garment Designer Lesson Book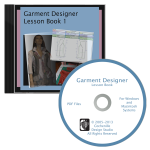 The Garment Designer PDF Lesson Book is written to show people how to use Garment Designer creatively, plus it explains simple design principles and offers design tips. It consists of 3 projects:
• Creating Simple Vests (4 lessons)
• Designing a Garment in Piecework Style (3 lessons)
• Copying Ready-to-Wear (2 lessons)

Easy Seven Jackets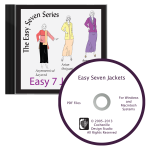 This 100 page book is designed to show Garment Designer users how to get more out of their software. Each jacket is easily designed in the software and can be knit or sewn. With each project (whether you actually sew or knit it in the end) will teach you a new skill to use with your pattern software or with the building of garments. Knitting tips and illustrated sewing instructions are included in the book as well as generic techniques and tips.

Easy Seven Jackets Images & Descriptions
(Click on the slide to view image)
Louise Doll (Black of Tan)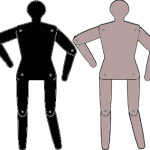 Cochenille's Louise is a 1/4-scale flat, jointed doll that is an exact 1/4 scale of Garment Designer's Size 10 Woman. Use her to prototype your garments in small scale, test concepts, create display examples, or simply to have fun. (Comes in Black or Tan)
Sewer's Worksheets
These worksheets are developed for people who want to make their own patterns, whether by hand or computer. Get organized prior to creating any sewn garment or project. Use 4 different worksheets:
• Pattern Planning Worksheet
• Garment Construction Worksheet
• Project Costing Worksheet
• Sewer's Computer Log

Knitters Worksheets PDF CD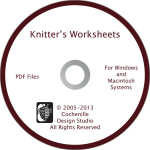 Cochenille Knitter's Worksheets are an excellent way to get organized when developing hand crafted or computer generated patterns.
There are 4 different worksheets to assist you in the creative process:
• Swatch Record Sheet
• Sweater Project Worksheet
• Sweater Spec Sheet
• Knitter's Computer Log
This CD also includes a Yarn Inventory template to print and cut. Fill in the yarn information and wrap a sample piece of yarn around the card to keep record of projects. Related Products: Key Ring (A great way to string together your yarn cards)

Knitter's Yarn Cards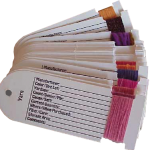 Cochenille Yarn Inventory Cards contain a place for you to record all your information, plus a wound strand sample of the yarn for easy reference. You may store these cards in a binder, or on a large ring.
Once purchased, this PDF file will be sent via email. For best results, print on cardstock paper to produce as many as you need.