Garment Designer 2.5
Cochenille Design Studio's pattern making software.
It is used for on both Windows and Macintosh computers.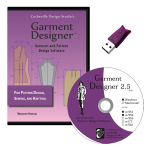 Security
Garment Designer 2.5 uses a USB Hasp key (dongle). You may install the software on your desktop and your portable. The key must be plugged in to operate the software. This is the same key system we use with Stitch Painter Gold 3. Those who own Stitch Painter Gold 3 may choose to update your existing key. This will allow you to use one key for both programs.

Garment Designer 2.5 users who have do not have the most current version please contact us at Cochenille to perform a remote update. Info@cochenille.com
Current Version
Garment Designer 2.5.3 (Windows)
Garment Designer 2.5.4 (Macintosh)
Compatibility: 
• Windows XP to 10*
• Macintosh 10.6 to 10.14.6* (not compatible with OSx 10.15. Please see our Support Page for more information.)

*If you update your computer's operating system past the operating systems listed, you will risk losing compatibility with the program.