Creativ Festival
October 26, 2017 @ 1:00 pm

-

October 28, 2017 @ 2:30 pm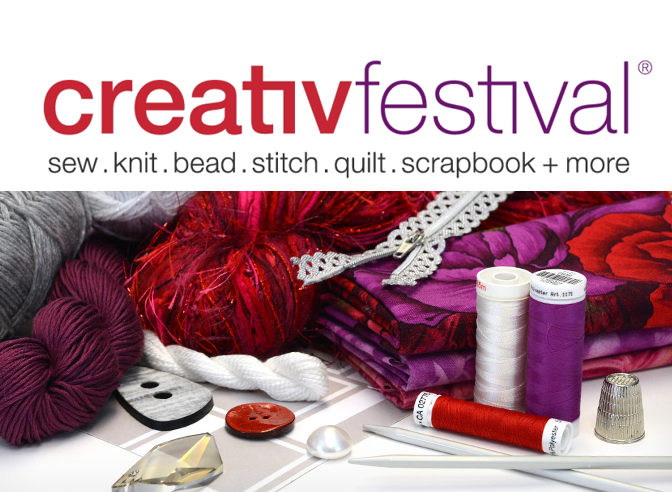 Creativ Festival
Since 1988, Creativ Festival is Canada's largest DIY consumer show dedicated to the creative arts of sewing, knitting, beading, spinning, weaving, felting, quilting, crocheting, stitching, scrapbooking, crafting and other fibre, textile, needle and paper arts. 
Cochenille will be at booth #121, stop by for a chat!
Susan will be hosting the following seminars:
CHANGE IT UP! Learn how to use a favorite pattern as an anchor piece and change it up to create variations on a theme. Change the neckline, add a style feature, fashion it up or down. In the end, you have multiple patterns, each one a bit different, and all should become staples in your wardrobe. Students will work on some basic ideas presented in class to develop a mini collection of ideas to take home and execute.
1.5 Hour Seminar | Thurs 1:00 – 2:30 (Aviation C1)
PATTERN SOFTWARE … IS IT FOR YOU? Tired of all the pattern alterations? Maybe it is time to consider letting the computer aid you in obtaining patterns that are better suited to your proportions. This class will focus on a discussion of considerations one should make when working with software; what measurements are important, trouble fit areas, the use of master patterns, pattern editing for fit and creativity, etc. Learn how just possibly, computer software can be your ally. Garment Designer for Windows/ Mac will be used as the demonstration tool, but the same thought processes are necessary for other programs 1.5 Hour Seminar | Fri 9:00 – 10:30 (Aviation C1)
THE ASIAN AESTHETIC: CREATIVITY WITH SIMPLE SHAPES Japanese fashion designers have reinvented simple and traditional garment shapes for years. This lecture will inspire you with their creativity, and a discussion of how to go beyond the rectangle when building unique and fashionable garments. This class is suitable for pattern development for many textile arts. 1.5 Hour Seminar | Fri 1:00 – 2:30 (Aviation C1)
KNOCK-OFFS AND ADAPTATIONS The process of 'knocking off' and/or adapting a garment is really not that difficult. Susan will show you how to analyze photos, pictures and even actual garments to determine how one creates them, either by modifying existing patterns, or by creating your own with pattern design software. Learn how to analyze your fit preferences, determine the design details and translate these to a paper pattern. You will be amazed at how easy the process can be. Demonstration will be with paper patterns and Garment Designer software. For non-computer and computer people. 1.5 Hour Seminar | Sat 3:00 – 4:30 (Aviation C1)
For more info:
http://www.csnf.com/wp-content/uploads/2017/10/CFF17-brochure-web.pdf