Stitches West 2019
February 21, 2019 @ 9:00 am

-

February 24, 2019 @ 4:30 pm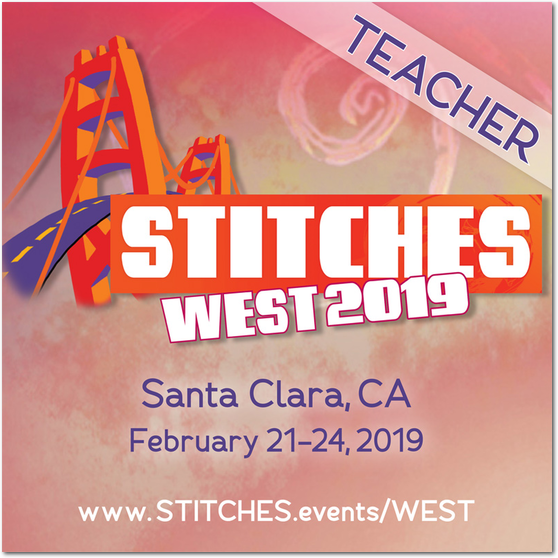 Stitches West 2019 in Santa Clara is one of the year must-go conventions. Last year we had such a great time that Cochenille will be returning to vend and host classes!
Cochenille will be vending at Stitches West 2019 in Santa Clara, CA February 21-24th, Booth# 507. We will have show special pricing on our products and live demos.  Be sure to register for our classes as well as Susan Lazear, creator and owner or Cochenille, has a great class schedule lined up for the whole weekend.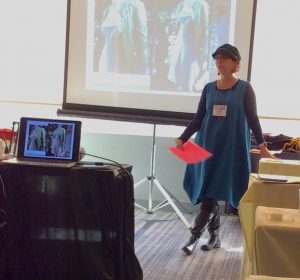 In addition to being the owner and Creative Director of Cochenille Design Studio, Susan Lazear is a Professor of Fashion at Mesa College in San Diego where she teachers various fashion courses including Textiles, Patternmaking, Textile Design, Clothing Construction and Fashion History. Susan designs wearable art, mixed media clothing (e.g. sewing and knitting) and is a computer graphic artist.
She has taught fashion and design workshops around the world and now she will be teaching at Stitches West 2019. If you are attending the show, don't miss this opportunity to enjoy one of her classes. These classes are being hosted in-person at the Stitch West 2019 Convention so if you are in the area we'd love for you to join us!
For more information on Susan's classes you can go to her Stitches West Teacher Page.
Thursday, February 21st, 2019 at 9:00 am – 12:00 pm Thursday 1:30 pm – 4:30 pm 
Learn how to combine a fabric with yarn to create a mixed-media project. This hands-on class will teach you how to measure and create a square-armhole-style garment. Bring fleece, wool, or other fabric of similar weight. We will plan knit or crochet sleeves and a collar or scarf to complete it. Students will measure each other, draft their pattern, then combine yarn and stitch pattern (knit or crochet) to coordinate with the fabric. Various design concepts and combination techniques will be discussed in class.
Friday, February 22nd, 2019 at 9:00 am – 12:00 pm Friday 2:00 pm – 5:00 pm
This workshop will take you through the creative process, from storyboarding ideas to developing a plan for a group of garments that work with your figure and your sense of style. No art background necessary! Learn how to ideate and create. You will develop an inspiration board of ideas, and then move on to plan the fabrication (knit, crocheted, or sewn), color story, styles, and fabrics/swatches for a group of garments. This is the process typically used to design a line of clothing.
Saturday, February 23rd, 2019 at 2:00 pm – 5:00 pm
Through a series of exercises and activities Susan will help you determine what styles and which knit or crochet fabrics work with your figure, face, and lifestyle. Working through this process in a classroom filled with other real bodies is empowering. You'll see beyond measurements, to proportion, and discover the magic of garment shape and line. We'll explore a variety of topics that will help you make better design decisions and allow you to actually wear the garments you knit or crochet!