Webinar: Understanding Armhole-Sleeve Relationships
November 9 @ 11:00 am

-

12:30 pm

$25.00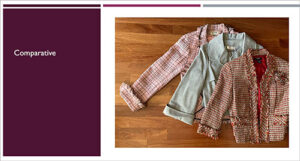 Thursday, November 9, 2023. 11 am PT
If you alter patterns, or want to draft them 'from scratch', Susan will teach you the basics of armhole and sleeve combinations. Understand how changes made to the armhole affect the sleeve and enjoy learning how to draft/create a multitude of sleeve styles. Garment Designer will be used to demonstrate examples, but the techniques apply to hand-drafting and altering patterns as well.
To purchase, click here.
>>>
No Need to be Present Live!
We've listened to your feedback and will have the webinars available to review for attendees who sign up prior to the scheduled webinar but are unable to attend at that time. The video will be completely unedited, directly from the webinar meeting. It will be available for two weeks after the webinar is hosted.
What do you get with a Webinar?:
Online webinar (60 – 90 minutes) (or access to the recording if you can't attend)
Handout in Advance
Access for two weeks after the webinar to review the video
PDF of the Powerpoint lecture (for personal use)
15% discount code for Cochenille Products (excluding software upgrades)
Webinars need a minimum of three participants to host. If we do not meet this minimum, the webinar will be canceled two days prior, so be sure to register early.
After registration, we will email you with the webinar invite and handout, one or two days prior to the scheduled time.