Webinar Discount
We will continue our Webinar Special: Buy one, get one at 25% off. Use the code ExtraWebinar at checkout. If you want to take four webinars, it would be simplest to place two separate orders in order to get the discount twice.
Webinars this month include:
Pant Workshop (Part A).
Pants, Pants – Measuring and Working Towards a Better Fit 
Thursday, 9/10/20   5 pm PT
Web-102A
Pant Workshop, Fit Lab. ** NEW
Saturday, 9/26/20    1          pm PT
Web-102B
I've Opened the Box, Now What? **Updated
Thursday, 9/17/20    4         pm PT
Web-104      
Stitch Painter and the Full Color Import Module **Updated
Tues, 9/22/20    4 pm. PT
Web-108      
Fitting Points in Garment Designer  ** NEW
Wednesday, 9/30/20    5 pm PT
Web-146    
CLICK HERE to go to our store for more information.
Product Discount
Measuring Made Easy Measuring Tape Set
15% off   Discount Code – MeasuringMadeEasy
This month we are featuring the Measuring Made Easy measuring tape set which is designed and produced by a fellow San Diegan, Lorraine Henry. We have known Lorraine for a long time. She has a degree in Home Economics and has taught for many years. Her specialty lies in the areas of Fit, and she will be a guest instructor at our Pant workshop webinar this month.
So, what is unique about Lorraine's measuring tape set?
The primary thing is that The Two Easy Tape has a '0' (zero) in the center of it, which allows easy measuring for Front vs. Back and Left vs. Right measurements.
In addition, the Companion Inseam Tape can anchor on the Two Easy Tape, so that you can easily measure your Inseam measurement while you are taking your crotch length measurement. … and there are other uses as well.
We have created a 2-page Fact Sheet on this product, which you can download by clicking here.
Here are a few links as well, related to this product.
INFO:   https://www.cochenille.com/other-products/other-design-aids/
SHOP: https://shop.cochenille.com/collections/other-design-aids/products/measuring-made-easy
Click here for more info on our specials:
https://shop.cochenille.com/collections/specials
Sign up to our Mailing List to be informed of our webinar dates and specials. Attendees of our live webinars also receive additional savings on Cochenille products after the scheduled webinar. Join a webinar, learn something new about the software and save on your next Cochenille product purchase! Below is a listing of our past webinars, which can now be downloaded online:
Webinar Video Series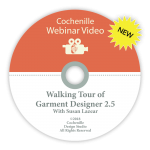 "Walking Tour of Garment Designer 2.5"
Take a tour of Garment Designer with Susan Lazear as your tour guide! Susan will show you Garment Designer's main attractions as well as help you discover destinations you may not have known existed. This tour will help seasoned travelers and new tourists explore Cochenille's pattern making software. So join us and take a scenic stroll through Garment Designer's menus, shortcuts and capabilities to help you gain a sense of direction when navigating our program!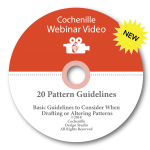 "20 Pattern Guidelines"
If you alter or create your own patterns, then it is time you increase your knowledge of pattern rules that professionals know and understand. In the class you will see how simple it can be…if you understand the basics. Study the anatomy of a pattern, learn how to change it properly and how to relate ease to fit. This is a great webinar to review or learn important patterning fundamentals. Garment Designer will be used to demonstrate examples.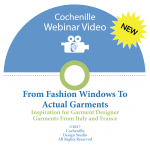 "From Fashion Windows to Actual Garments"
From Fashion Windows to Actual Garments webinar will take you through the process of analyzing the fashions you see in store windows, online or elsewhere and then building the pattern in Garment Designer.
Learn some great Garment Designer and patterning tips and turn your next window shopping experience or Pinterest board into actual garments. A series of different garments will be shown and used in this workshop. You will learn how to interpret the styles and how to creatively use your software to make the pattern.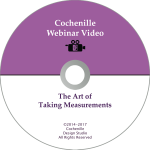 "The Art of Taking Measurements"
This webinar focuses on the art of taking measurements properly and accurately, for Garment Designer and general pattern making. It will also cover what part of the pattern ameasurement affects, and how better fit can be achieved, with the proper measurement in place.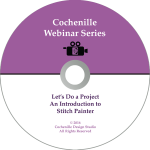 "Let's Do a Project! An Introduction to Stitch Painter"
Are you a new Stitch Painter user? Maybe you need a refresher? This webinar will demonstrate the basic workings of Stitch Painter, Cochenille's Stitch Design program. This program can also be used for Beading, Stitchery, Mosaics or any graph based design. Learn how to approach a project, use the Tools, Repeat, and other basic menus.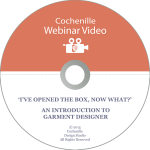 "I've opened the box, now what? An introduction to Garment Designer"
This webinar video is for people who are basically just starting, or who need a complete refresher on how to approach creating garment patterns with Garment Designer. It's time to get going, so let's walk through the steps of thought, measurement basics, and so on. Follow along with Susan Lazear as she walks you through the basic functions of designing a simple garment. We    have included some of the questions that were asked during the  recording used for this video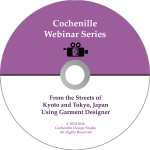 "From Kyoto to Tokyo Japan using Garment Designer"
This video includes 40 minutes of fashion trends overview and 30 minutes of demonstration of using Garment designer to build 4 garments, inspired by the fashions seen in Kyoto and Tokyo, Japan. Review current trends in Tokyo and Kyoto, Japan. See what is in the store windows and on the street. Then, using Garment Designer, learn how to build patterns for some of these garments. We will stretch your mind by choosing garments that  are creative in their design and/or require a slightly different approach in Garment Designer.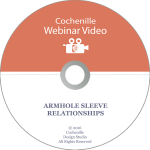 "Armhole Sleeve Relationships"
If you alter patterns, or want to draft them 'from scratch', Susan will teach you the basics of armhole and sleeve combinations. Understand how changes made to the armhole affect the sleeve and enjoy learning how to draft/create a multitude of sleeve styles. Garment Designer will be used to demonstrate examples.