Stitches At Home Class
September 5, 2020

-

September 13, 2020

$250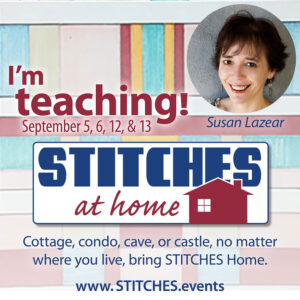 Don't we all want to make our garments uniquely ours? That's the essence of design, and you don't have to have super powers to do it. You just need to learn basic skills and insights that allow you to see what it is that designers do. It's a process that you can learn.
Susan will walk you through a series of exercises that allow you to enhance the design awareness and skills that you already have (whether you realize it or not). You will be amazed to find that a few simple strategies will guide you to more creative results. Learn to work with color, plan imagery and motifs, work with proportions (both generally in design and for your figure), and add texture.
This class is appropriate for all textile arts including knitting, crochet, sewing, and more.The workshop format includes a PowerPoint discussion, demonstration, and then time for you to work a bit to ensure you have comfort with the exercise and can work on your own between our sessions. When we come back together, we'll have time to share results before moving to the next exercise.
Special skills or knowledge needed to take this class:
No special skills are required, other than an open mind and the willingness to explore.
Some of the exercises will additional information for owners of Stitch Painter or Garment Designer, so if you are a Cochenille user, you get twice the information.
Sept 5, 10am-12pm & 2pm-4pm CT
Sept 6, 10am-12pm CT
Sept 12, 10am-12pm CT
Sept 13, 10am-12pm CT