There are a few quick ways to tell if your Style sets have been installed.
1. Go to your Garment Designer Application Folder
Mac: Finder > Applications > Garment Designer
Windows: C: Drive > Garment Designer Folder
In this Garment Designer folder you should see Style sets 1 & 2 manuals. These would not be installed if they were not on your program disc.
You should also see two data files in your Plugins folder for Style Sets 1 & 2 (these will not open from this folder if they are clicked on, but are used by the Garment Designer program):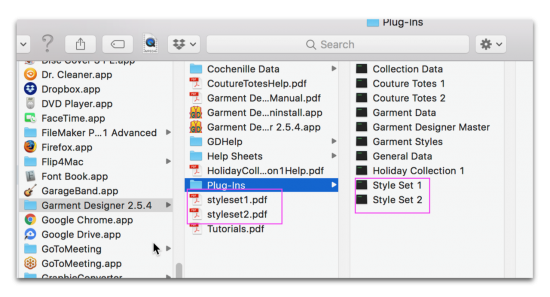 The manuals show where to locate the specific styles while in the Garment Designer program.
You can also open Garment Designer up and under the "Top Style" menu (while in the Basic Top group Category) you will be able to see some of the additional styles highlighted below: