American Sewing Guild (ASG)-Indianapolis, IN
July 7, 2016 @ 9:00 am

-

July 11, 2016 @ 5:00 pm
American Sewing Guild (ASG) Conference-2016
American Sewing Guild (ASG) Conference offers workshops, seminars and lectures in two-day, all-day, half-day, two-hour and 90-minute formats. Classes are tailored to every sewing interest and every level of sewing skill.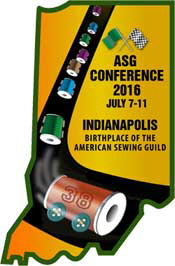 Join us for the 2016 ASG Conference
in Indianapolis, IN, the birthplace of the American Sewing Guild.
Susan Lazear will be one of the guest teachers offering classes on Garment Designer and a preview of the soon to be released Garment Designer 3.
Please view Event website for Registration information
Itinerary:
Wed-Fri
July 6-8
9am-5pm
Trained Sewing Instructor workshop
Wed
July 6
7-9pm
Chapter Leadership Reception
Thur
July 7
Annual Corporate Meeting
Optional Workshops
Fri-Sun
July 8-10
Core Conference
Sat
July 9
Indianapolis Motor Speedway Grounds Tour
Sun
July 10
The Miller House & Garden Tour, Columbus, IN
Mon
July 11
Fabric Shopping & Eiteljorg Museum of American Indians and Western Art