Webinar: Creative Facing Alternatives
August 9 @ 2:00 pm

-

3:30 pm

$25.00
Creating Facing Alternatives
Wednesday, August 9th, 2023 2 pm  PT
Click here to purchase.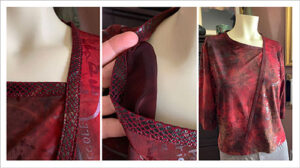 Are you tired of using the standard facing? Why not explore some alternatives to facings as gleaned by paying attention to designer clothing. Susan will share multiple images of garments that she has collected in her travels and discuss not only how to approach the designs of these in Garment Designer, but also the sewing techniques involved as well. Learn to give your work a signature look and say bye-bye to the facing of past.
>>>
No Need to be Present Live!
We've listened to your feedback and will have the webinars available to review for attendees who sign up prior to the scheduled webinar but are unable to attend at that time. The video will be completely unedited, directly from the webinar meeting. It will be available for two weeks after the webinar is hosted.You must sign up prior to the scheduled date.
What do you get with a Webinar?:
Online webinar (60 – 70 minutes) (or access to the recording if you can't attend)
Handout in Advance
Access for two weeks after the webinar to review the video
PDF of the Powerpoint lecture (for personal use)
15% discount code for Cochenille Products (excluding software upgrades)
Webinars need a minimum of three participants to host. If we do not meet this minimum, the webinar will be canceled two days prior, so be sure to register early.
After registration, we will email you with the webinar invite and handout, one day prior to the scheduled time.