Stitches United 2020
Cochenille is heading eastward to Hartford, CT! It has been far too long since Cochenille has visited our friends out East and we are excited to meet with our users, host fun inspirational classes, offer special pricing on our products and present live demonstrations of the program's abilities.
STITCHES United 2020 will take place at the Connecticut Convention Center & Marriott in Hartford Downtown Hartford, CT on March 26th-29th, 2020.
In addition to being the Owner and Creative Director of Cochenille Design Studio, Susan Lazear is a Professor of Fashion at Mesa College in San Diego where she has taught various fashion courses including Textiles, Patternmaking, Textile Design, Clothing Construction and Fashion History. Susan designs wearable art, mixed media clothing (e.g. sewing and knitting) and is a computer graphic artist.
Susan Lazear, has taught fashion and design workshops around the world and now she will traveling across the country to teach at STITCHES United 2020. Don't miss this opportunity and sign up today! 
You can view Susan's STITCHES United class schedule listed below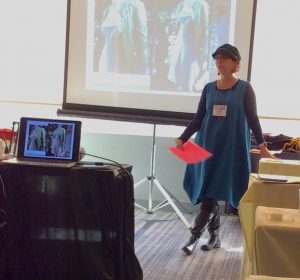 Thursday 03/26/2020, 9:00 am – 12:00 pm
Thursday 03/26/2020, 1:30 pm – 4:30 pm
This hands-on class is designed for people who want a refresher on the use of Garment Designer and Stitch Painter software or for those who want to test drive to determine if computer design may work for them.
In the morning we will walk through the use of Garment Designer to show you how to create patterns for sweaters — bottom-up, sideways, top-down — in any gauge or stitch pattern. Sewists will add hems, facings, and seams to their designs.
Learn how to tweak patterns for fashion, style, or fit.
In the afternoon, we will move to Stitch Painter, a grid-based software program (perfect for knitting, crochet, beading, etc), where you will learn how to design colored charts on a grid, using repeat modes, pre-determined palettes, etc. We will explore some of the more advanced features such as designing with symbols, importing a photograph, building motif libraries, etc.
If you are test driving, you must pre-arrange a digital download through Cochenille.com. You will be able to use the software for the day; Windows or Macintosh compatible.
Upcycle and Design: A Signature Jacket (or Top)
Sunday 03/29/2020, 9:00 am – 12:00 pm
Upcycling and sustainability is all the rage. Why not join the movement and create a signature jacket from a well-loved sweatshirt?
Bring your knit/crochet/sewing/weaving skills together by making the piece with an existing (oversized) sweatshirt as your base. You will begin the process of adding yarn, swatches, fabric pieces, and embellishments to the base. This hands-on experience offers a lot of inspiration as Susan Lazear shares her ideas as you begin. The sweatshirt offers a quick-fit opportunity where you can focus on surface design and assemblage to create a contemporary and unique piece.