How To Read a Ruler
Learning how to read a ruler is a patterning must and to make it just a bit easier for our users we would like to share our own reference handout that is now on Pinterest!
Feel free to print it out and reference it while patterning or measuring!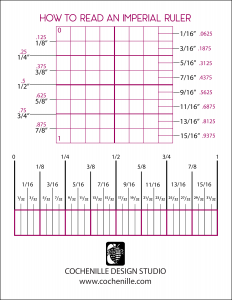 Download the .pdf:
Pinterest has made saving and sharing ideas, projects, how to's and more fantastically easy & fun. Cochenille Design Studio would love to share what we have been pinning!
Find us on Pinterest at https://www.pinterest.com/cochenilleDS/boards/ 
View our Garment Designer & Stitch Painter projects and be sure to share yours with us!
Until next time, Happy Crafting!