Nature's Color Inspiration
Nature's Color Inspiration is a brief perspective of how one can find inspiration in the plants that we see every day. We may pass by them yet never consider the beauty that surrounds us. The natural world can be a creative muse and invoke new ideas.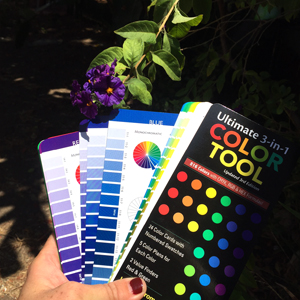 Currently Cochenille is working on Style Set 3, which will be a new plug-in for Garment Designer.  While Susan figures out the technical side of it, I get to be creative by building the fashion figures we use in our tutorials. I have 3 models ready to be dressed and find myself at an impasse when deciding what should seemingly be simple. What color do I make her top?
Although I consider myself to be a creative person, I often have trouble with colors and combining colors. The internet provides a substantial source of inspiration but sometimes you just need to get away from your computer. Finding myself in this predicament today, I decided to take a walk and snap a few photos. I also took with me one of our 3-in-1 Color Tools to match the plants to the colors I would use.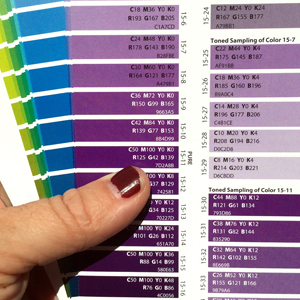 I love flowers and chose them as my source of inspiration. Matching the flower to the Color Tool, I would take note of the ID color on the card. The reverse side of the card gives the CMYK, RGB and # code. This is especially handy when your design requires a computer and matching colors. The card also displays the complimentary, analogous, split-complimentary and triadic colors. For someone who is color combining challenge it is quite helpful.
With my new sense of accomplishment, I set off to finish my design. Not only did I have my natural color inspiration and the exact code needed to recreate each color, I also got to step outside.
View more photos and see how I chose my colors in the following slide show. You will also get a sneak peak at one of the images that may be use in the new Style Set 3 Tutorial.To purchase the 3-in-1 Color Tool click on the SHOP NOW link and go to Design Aids. I hope I've given you some food for thought. Enjoy creating!