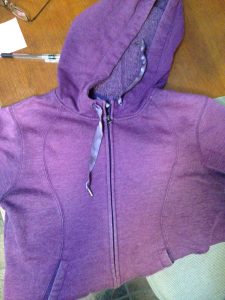 It's time to make a pattern!! One of my favorite things in my creative world, is to figure out how to make patterns using Garment Designer. I'm constantly looking at clothing and analyzing it in my mind to determine what styles I would choose withing the software to create a pattern.
Here you can see a purple fleece garment. The design detail that caught my eye was the curved princess seam. Isn't it great!
So, into Garment Designer I go, to see if I can make the program sing for me.  Basically, I maneuvered the princess seam lines, with the curve control points to get the curve swing I wanted to mimic the top's style. I also moved a few points around, but it looks like I'm good to go!!
Here is my result.