Garment Designer Pattern Eco Dye Style
Garment Designer Pattern Eco Dye Style was created with our upcoming Batwing sleeve! Here at Cochenille, I'm working on a group of new styles (Style Set 3) for Garment Designer. At the same time, I'm teaching a new course at Mesa College; Textile Design. I decided to combine the two as I test new styles.
The Pattern
Here we have a style I'm working on; a Batwing sleeve. My inspiration came from the costumes at a recent Ballet performance I attended. The ballerinas wore a batwing style sleeve with an extended cuff, scrunched up their lower arm.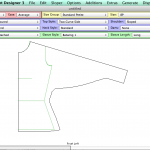 To the left is my initial write of the style. I'll extend the sleeve when I cut the garment.
I printed a test pattern, then taped it together. This I laid on the fabric and once I understood the shape, I began to lay out my various plants on the fabric. began to lay out my various plants down in place.
The Layout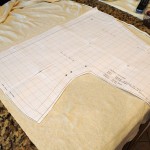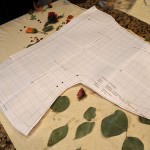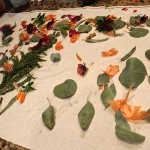 The next step was to roll the fabric up, and tie it tightly. Then, it is put in a pot of simmering water. A rusted pot was put in for good measure to assist in heightening the color of the plants on the fabric.
Into the Pot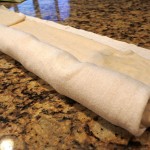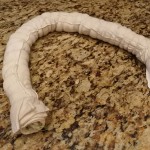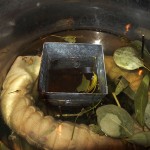 After about one hour, the fabric come out, and is untied, and unrolled. Many plants (but not all) transferred their color to the fabric.
Revealing the Fabric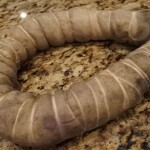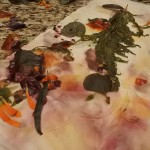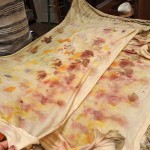 My fabric is ready… now time to get the garment cut out and sewn.
Susan.. Cochenille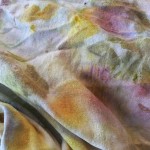 To learn more about Eco Dyeing, check out India Flint's website.