This online fabric shopping resource list in PDF is a compilation of lots of explorations over time.
With the help of some of our Cochenille users, and Dottie Richey in particular, we have compiled a list to share.
Many of these shops have both physical presences, so support them when you can. We want them to stay around. There is nothing like seeing the fabric 'in person'. And besides, what better sight-seeing is there than visiting fabric stores (when traveling kicks into gear full steam).
Our Fabric Shopping Resource List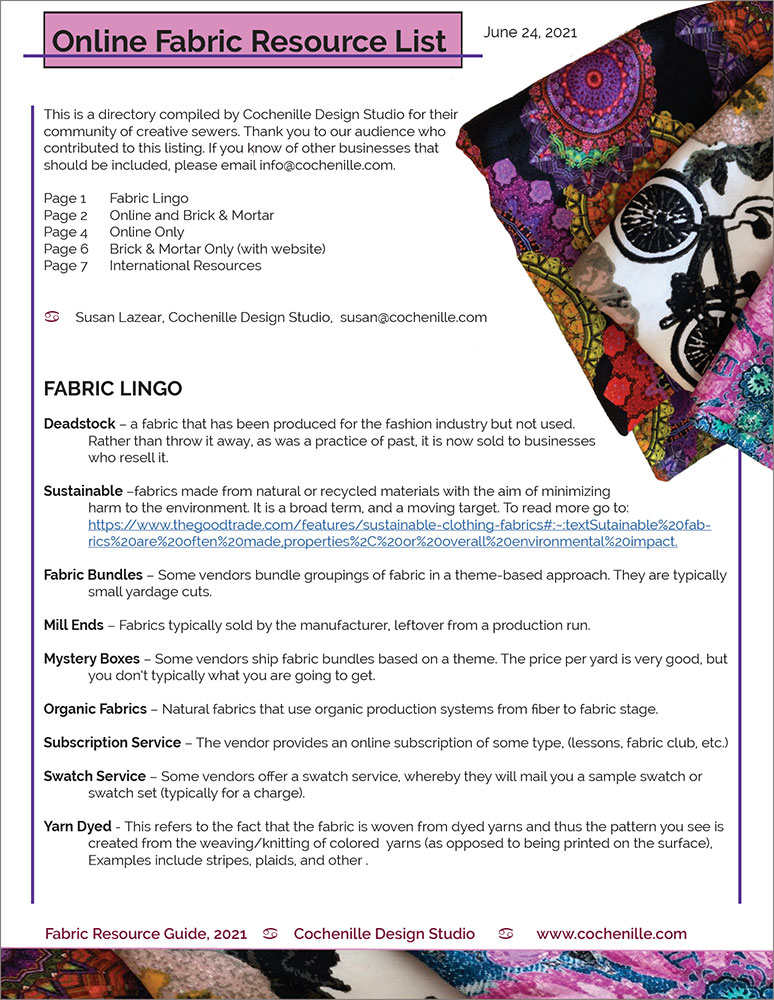 Click on this link to download the PDF file of our Fabric Resource list. This 8-page PDF document includes:
Fabric Lingo
online vendors
online/brick and mortar vendors
brick and mortar vendors only
International vendors
We have included their location by city, as we always like to know that ourselves (it gives confidence when you buy as you know where your shipment is coming from). You will see a web link, and a quick synopsis of information about the store (which is by no means complete).
Fabric Lingo
There is a language used in the textile industry and various fabric vendors utilize the terms, and so for that reason we included a Lingo Guide on page one.
Quiz… do you know that Dead Stock is? What are mystery boxes?
Enjoy this guide. If you find any errors, broken links (over time) or would like to suggest a fabric vendor for our next round of this list, please email info@cochenille.com.
Want to be notified of new blog posts?