The Pinch Test: The Key to Understanding Fit in Clothing
By Susan Lazear
Sometimes the simplest things in life are the ones we don't easily see. I would say this is true with sewers and knitters, and crocheters when it comes to understanding how much ease they like in their clothing. When I'm teaching patternmaking or fitting, and helping people create or edit patterns for themselves, I'll often ask individuals how much ease they want in the style. And.. I'm often met with a questioning stare. There are some simple tactic, which I term "Understanding your Fit Preferences" and one of these involves an understanding of the ease you like in your garments.
What is Ease?
There are two types of ease: wearing and style. Wearing ease is what you need in a garment to breathe, sit, and move. On average, based on a size 10/12, one needs 2 inches at the bust and hips and 1 inch at the waist. This increases/decreases slightly if your body size is larger or smaller, respectively. Of course, if there is spandex in the fabric or you are working with a knit, you don't need as much. Style ease is the added ease that helps define the style. An oversized boxy garment could have 32 inches of ease at bust/hip, and a fitted jacket might have simply the wearing ease of 2 inches at bust/hip.
If you are going to design or edit patterns for sewing, or fit commercial patterns prior to cutting them out, you need to develop a sense of how much ease you want in the garment. If you are going to knit or crochet, you need to take the time to understand the schematic of your pattern, and if it is not provided, you should make one based on stitches/rows and your gauge. The best way to understand your personal ease preferences to make a date with your closet and use what I lovingly call the 'Pinch Test'.
The Pinch Test
The Pinch Test involves simply putting a garment on, and pinching out the ease at the appropriate places, typically the bust and/or hip. Pay attention to the weight and drape of the fabric as this plays a key role in the amount of ease used. Typically, garments made with soft fluid fabrics may have much more ease than garments made with stiffer fabrics. Measure the pinch and multiply it by four to calculate how much ease is in the garment. For example, if you get a two-inch pinch, you will have eight inches of ease in the garment in total (2" X4, which includes the left and right, front and back). The goal is to learn as much as you can about your favorite garments, and ease preferences is a key item.
So, grab a notebook, a measuring tape, and a handful of your favorite pieces. Begin by measuring your own body measurements to notate your bust, waist. and hip. Now, make a chart and create columns; Garment, Style, Fabric, Ease Pinch: Bust, Ease Pinch: Waist, Ease Pinch: Hip.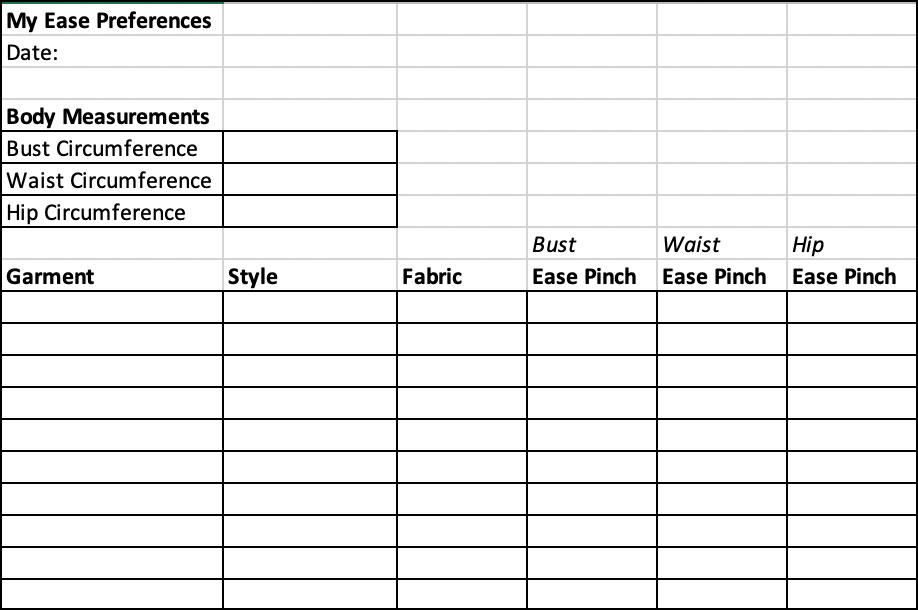 Put a garment on and pinch out the ease. It helps to hold the center of the garment in place, as you pinch at the side. Now, measure the depth of the pinch. Write it down. Continue through your group of garments, completing the chart as you go.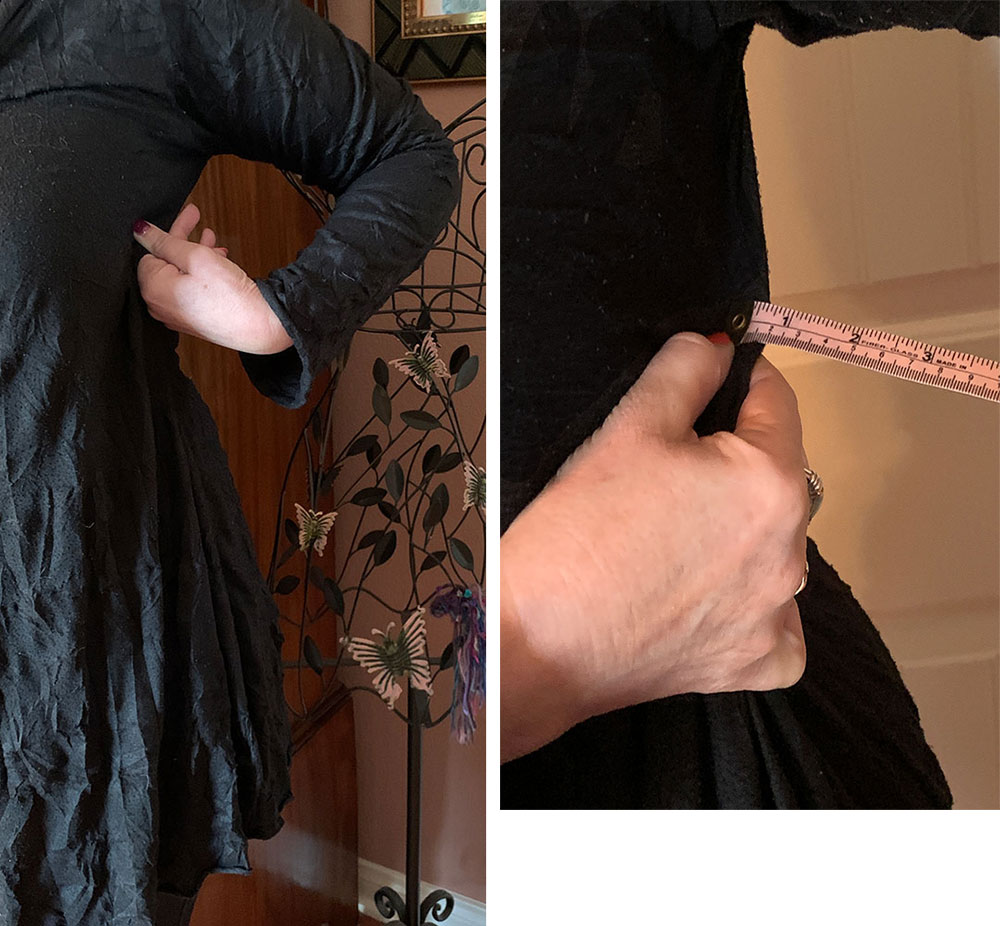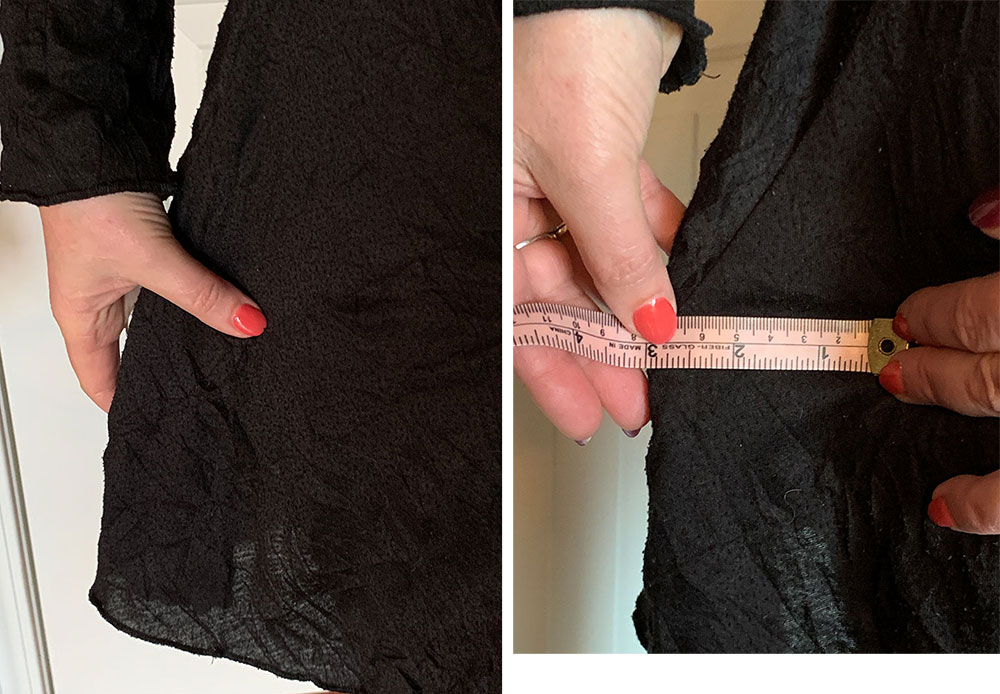 Photos:
If you multiply the pinch depth by four and add it to your body measurement, you will know the circumference of the garment at that point.
Try a couple of different garments that have different fabrics, and levels of fit. My black top is fitted at the bust, but is an A-line, so less fitted at the hips. It has a 5/8" pinch at the bust which equals 2-1/2" total ease. (5/8" X 4). At the hips I get a 3" pinch which equates to 12 total inches of ease. If I add those two measurements to my body measurements (38" bust and 40" hip), then I can see that my pattern would need a total perimeter of 40-1/2" at the bust and 52" at the hip.
My print jacket is a semi-fitted double-knit which has some 'body' to the fabric. Both my bust and hip pinches are the same at 1-5/8". Thus, the total ease at both the bust and hip is 6-1/2".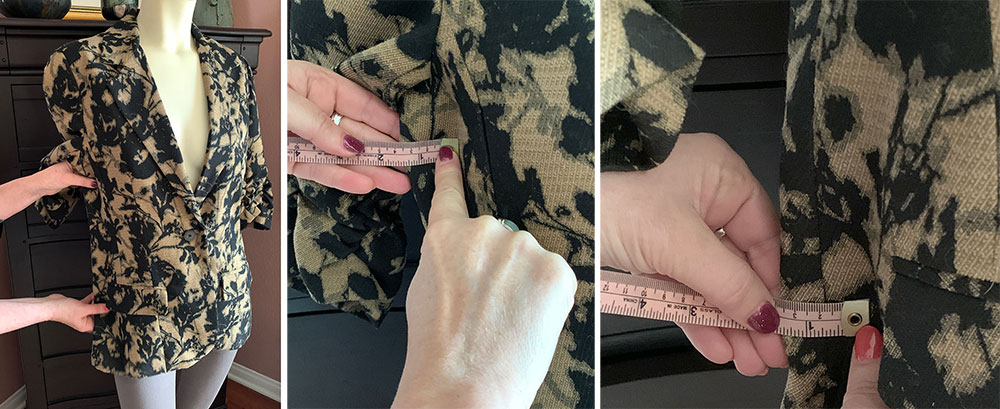 My orange sweater is made with a firm knit, and it is a boxy style. The bust pinch is 3 inches and the hip pinch is 2-3/4 inches equaling a total of 12 inches ease at the bust and 11 inches of ease at the hip.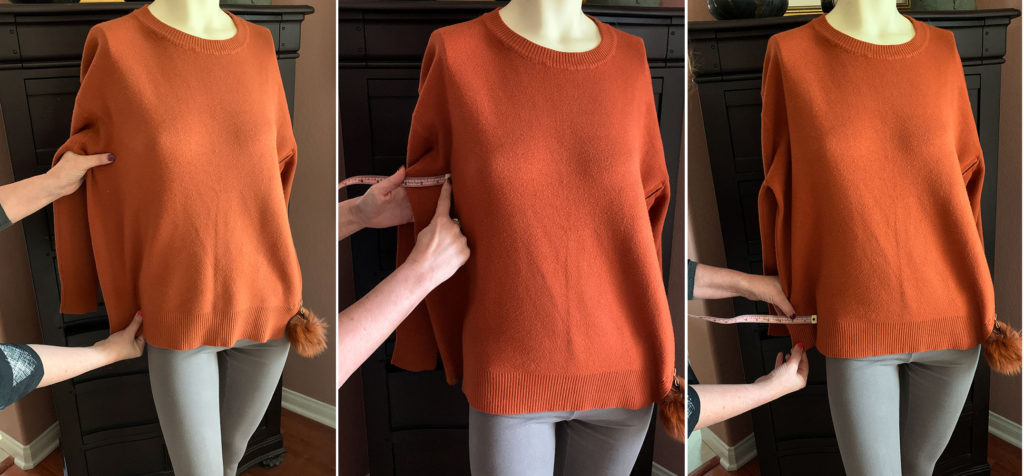 Not only is the information you gain from the pinch test handy; it is invaluable. Use it prior to scrutinizing a commercial pattern, prior to cutting your fabric, or to adding ease when you are drafting your own. You have just given yourself the ammunition you need to create or modify patterns so that there is no surprise or disappointment… and what about the elimination of muslin sample? Now, that is cool!
You can seem my notations in the chart I created in Excel. Eventually, this information will become ingrained, as it moves to knowledge as opposed to data.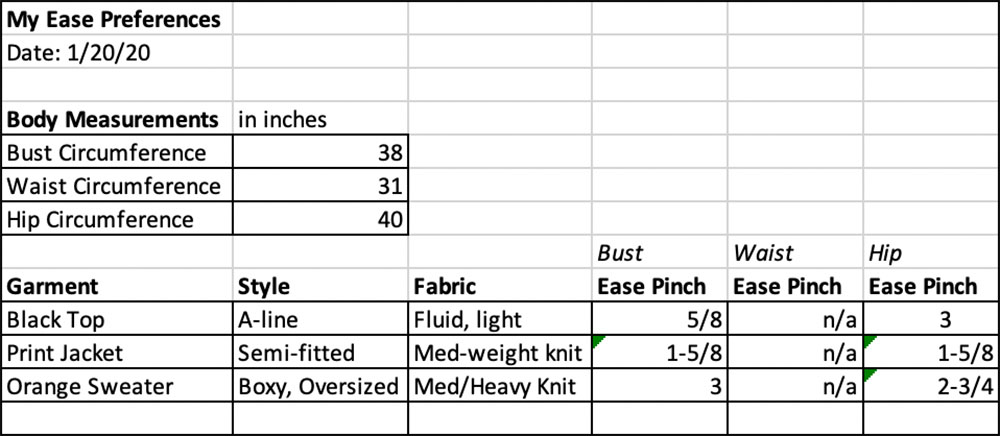 Using What You Have Learned
There are many ways to use the knowledge you have just gained:
If I were working with commercial sewing patterns, I would lay the pattern flat on the table and measure its width at bust/waist/hip. Then, by subtracting your bust/waist/hip, you can easily calculate how much ease is built into the style and determine if it suits your fit preferences, given the choice of fabric. If it doesn't modify the pattern.
If I were going to knit or crochet a pattern, I'd look at the schematic and compare it to my body + ease measurements to see if the pattern and its ease suit my taste and the hand/drape of the knit/crochet swatch I just made. If it doesn't modify the pattern.
When I design patterns (by hand or on computer), I am beginning with my body and a style, and so I simply ensure that I have the desired ease.
Garment Designer software users can look at the ease easily when they create patterns, and if the Sloper is turned on, it is easy to see and measure the ease in any style. So, pinch test information can slide directly over to the pattern.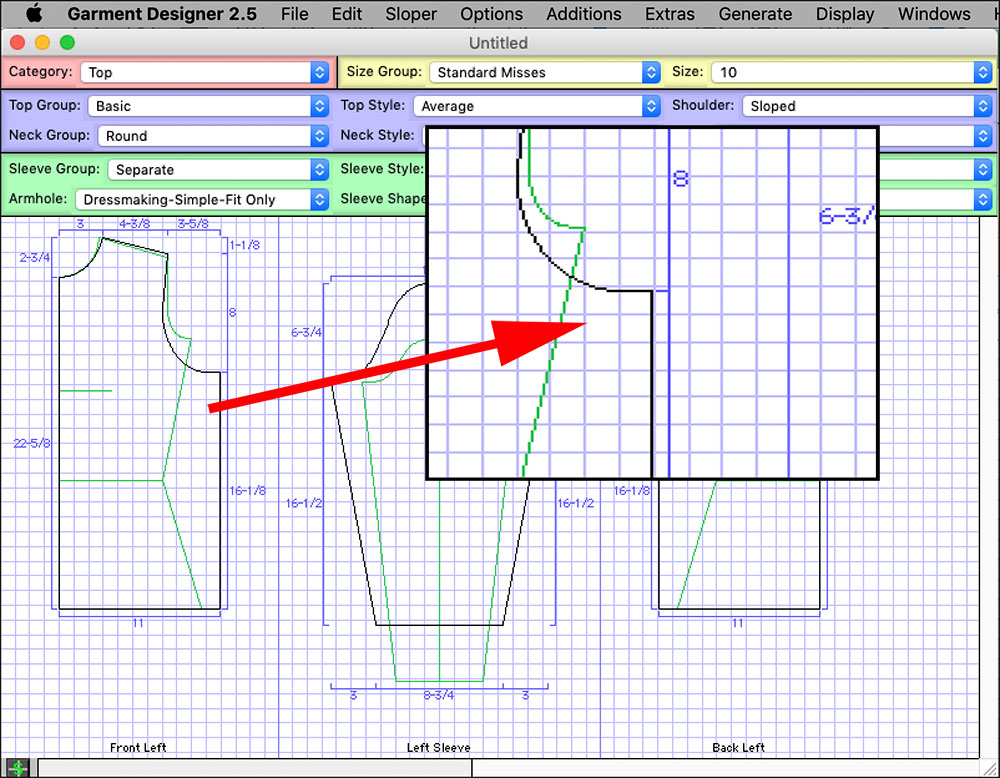 Over Time….
Keep adding to your chart; in fact, make it become a morning mantra to pinch out the ease on whatever garment you are wearing for the day. Always make a mental note of the style (fitted, semi-fitted, average, over-size, etc.), and the fabric. Soon you won't need to refer to the chart, and you will simply 'know'.
Perk?
The Pinch Test is a great tool to use in the dressing room when you are trying on clothing. I use it all the time to evaluate a style so I can recreate it at home. I've gotten pretty good at eyeing the depth of my pinch and determining how many inches it is.